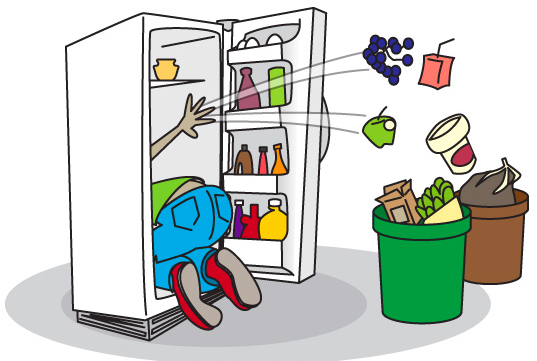 In the UK, we throw away £13bn worth of food every year – not only is this expensive but it's taxing on the environment and wasteful too. So, to help you avoid throwing away leftovers and unused foods, we've got some secrets to share for a more economical household and reduced waste.
Be familiar with sell by dates
You need to understand food dates and what best before and use by labels mean in order to make the most out of your fridge freezer. Consider upgrading to a model that ensures food stays cool. Fridges from the likes of Fisher & Paykel feature innovative tech that adjusts the temperature of your fridge to keep food fresher for longer.
Your meat and fish will be your most expensive food purchase so by taking a couple of seconds to check the dates on them you could save a lot of money and reduce waste. A good idea would be to store recently bought products in the freezer, if you don't think you'll eat them in time before they go out of date – this way they will last longer. This works well when buying large packets of meat as you can individually divide them up into freezer bags and the rest can go in the fridge to be used up in the next few days.
The same rule applies for dairy products that go out of date quicker. If you have leftover yoghurts consider using them as a topping on your breakfast cereal or add them to a smoothie.
Be clever with your food
Being clever with your food is the key to having no waste. What it comes down to is really thinking hard before throwing items away. Your leftovers from other dinners can make some great meals that taste great. Leftovers from a roast dinner could be used to make a curry or even a sandwich for your lunch the next day. If you've got the time, you could even turn your
leftovers into soup.
Try and keep your fridge freezer stocked with only the food items you need and try and avoid buying things for the sake of them being on offer. If you have dinner leftover in the pan, put it in freezer bags or boxes, then pop it in the freezer for a quick meal another day.
Last dregs of wine or beers can also be put into ice cube trays, frozen and then used for cooking in the future. If your fruit has gone bad, such as bananas, you don't have to throw them out – mash them up and add them to ice cream for a quick and easy pudding idea or mix with egg to make banana pancakes.
Meal planning
Meal planning is one of the most effective ways of saving money on your food. This is because you can plan exactly what you're going to eat – therefore knowing what food you are going to be using up. Think before you go shopping about what you need and write a list, this way you won't end up shopping for things you already have. Ask family members what meal they would like to have during the week and you can then work out a meal plan everyone will enjoy.
Get your portions right
Last but certainly not least, get your meal portions right. By doing this you won't end up with leftovers at all and it's great for staying healthy and eating the right amount of food for your body too. Use a portion calculator to help you weigh up enough for a filling dinner with no leftovers.
Try implementing these tips into your everyday life and you'll soon notice just how much money you're saving and how much less you are throwing out in between food shops.