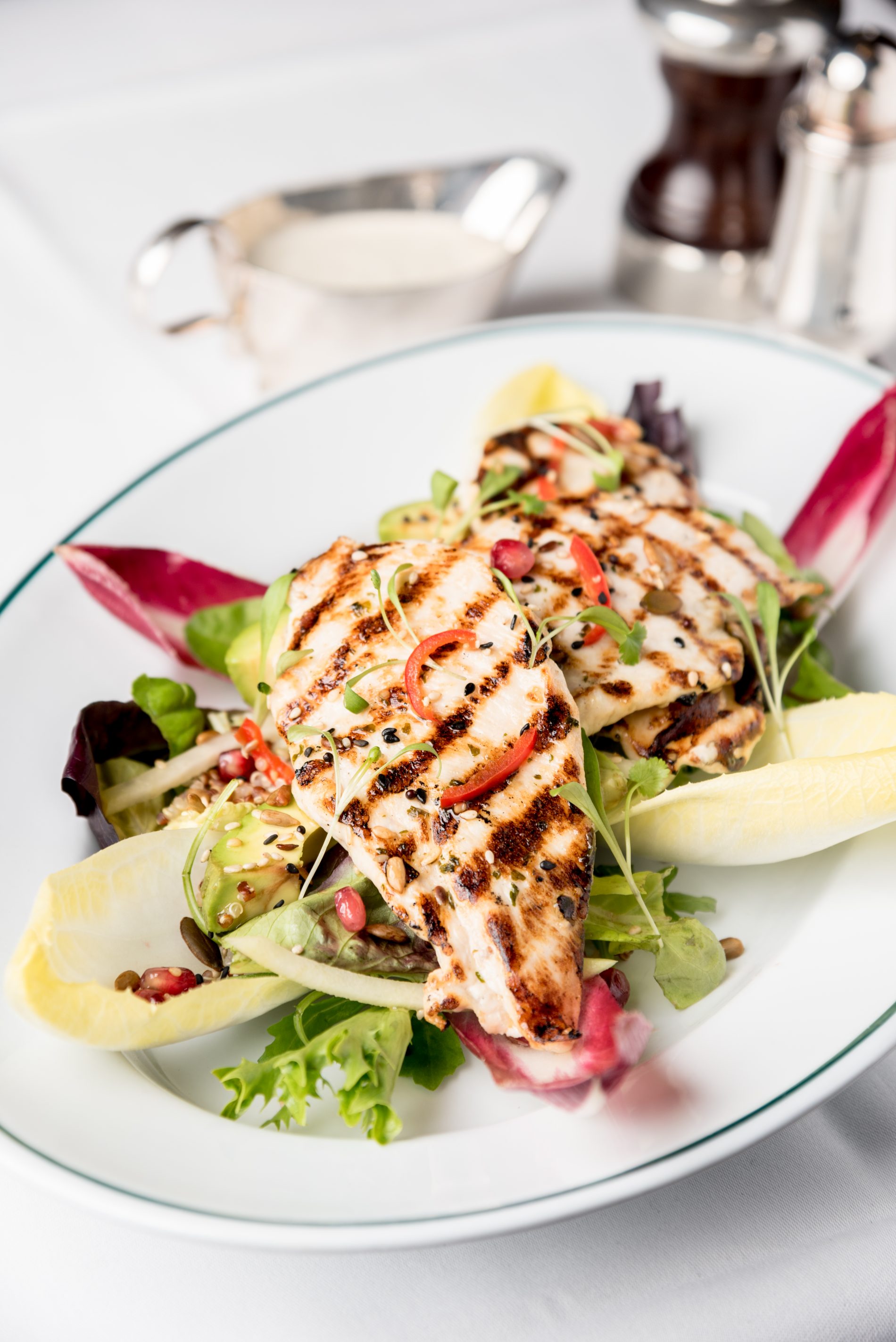 Granary Square Brasserie is revealing its top summer recipes to guide you on your sunny culinary quest and make sure you have the best al fresco dining parties in your garden. The grilled chicken salad done Granary Square Brasserie style is sure to spice things up with its complex Middle Eastern flavours.
Ingredients
3 pieces of Chicken Escalope
10g Garlic butter
2g Salt
55g Cooked red and white Quinoa
10g Pomegranate seeds
3 pieces of prepped white endive leaves
3 pieces of prepped red endive leaves
30g Green salad mix
1 portion of Kholrabi, chilli & radish
10g Vinaigrette
30g Avocado sliced into 1cm
5g Omega seed mix
1g Toasted black & white sesame seeds
1g Micro coriander cress
50g ginger & lime dressing
Ginger & Lime Dressing
50g natural yoghurt
2g lime juice
1g grated ginger
1g lime zest
30g whole milk
Pinch table salt
Pinch coarse ground pepper
Method
Place the chicken escalopes onto a place and season with salt on both sides and then place onto a hot grill and cook until market with grill lines. Turn over and grill the other side and then remove and keep warm. Brush the cooked chicken with garlic butter.
Place the kohlrabi, red chilli & radish into a bowl. Add cooked red and white quinoa, followed by the vinaigrette. Add pomegranate seeds and omega seed mix and carefully mix to combine all ingredients.
Place prepped red & white endive leaves onto a cold plate, alternating red then white. Place 30g of green salad leaf mix onto the centre of the plate. Spoon the dressed quinoa mix onto the leaves. Place 3 pieces of sliced 1cm avocado on top of the quinoa.
Place cooked chicken escalopes neatly onto the salad, sprinkle over toasted black & white sesame seeds, garnish with micro coriander cress and serve with 50g of ginger and lime dressing.