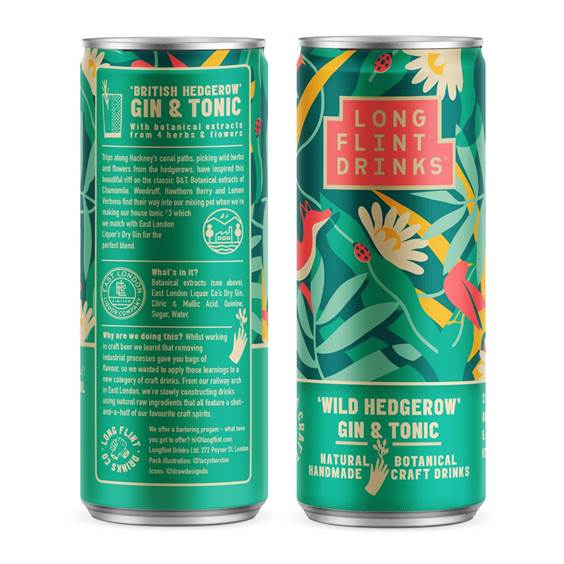 The Longflint Drinks Co. is launching its Wild Hedgerow Gin and Tonic in a can. Inspired by trips along Hackney's canal paths, picking wild herbs and flowers from the hedgerows, this riff on the classic G&T has botanical extracts of Chamomile, Woodruff, Hawthorn Berry & Lemon Verbena matched with East London Liquor Co's Dry Gin for the perfect blend.
"The response we've been getting from those who have had a chance to taste it has been phenomenal with one excited drinker announcing: 'This is the gin in a tin that changes everything!' We are incredibly proud to bring to market a category changer, elevating the quality and taste of your average G&T in a tin," said Co-founder James Law.
Whilst working in craft beer, Longflint founders learnt that removing industrial processes resulted in maximum flavour, so applied that learning to a new category of craft drinks. From a railway arch in east London, The Longflint Drinks Co. is slowly constructing drinks using natural raw ingredients that all feature a shot and a half of craft spirit. The can, which is designed by French artist Monge Quentin, is a sublime cacophony of colour, patterns and characters.
Wholesale pack size – 12 x 250ml cans
Shelf life – 12 months
RRP – £2.79 including VAT
Available to purchase at Whole Foods.
Longflint Drinks Co. was founded by Mark O'Reilly and James Law who used to work at Crate Brewery in Hackney Wick. Longflint was born from a desire to create a new range of natural botanical homemade craft drinks that avoided the over industrialised processes that we've become so accustomed to.
Coming from a craft beer background, they knew that there were bags of flavour to be found if you treat your raw ingredients with care. Longflint use a number of unique processes to make drinks from cold brewing hibiscus flowers to macerating vanilla pods in over-proof vodka.
Each process is designed to extract the maximum flavour from an ingredient they love, and by matching the results with craft spirits from our favourite independent producers, they know they are making the best drinks they possibly can.