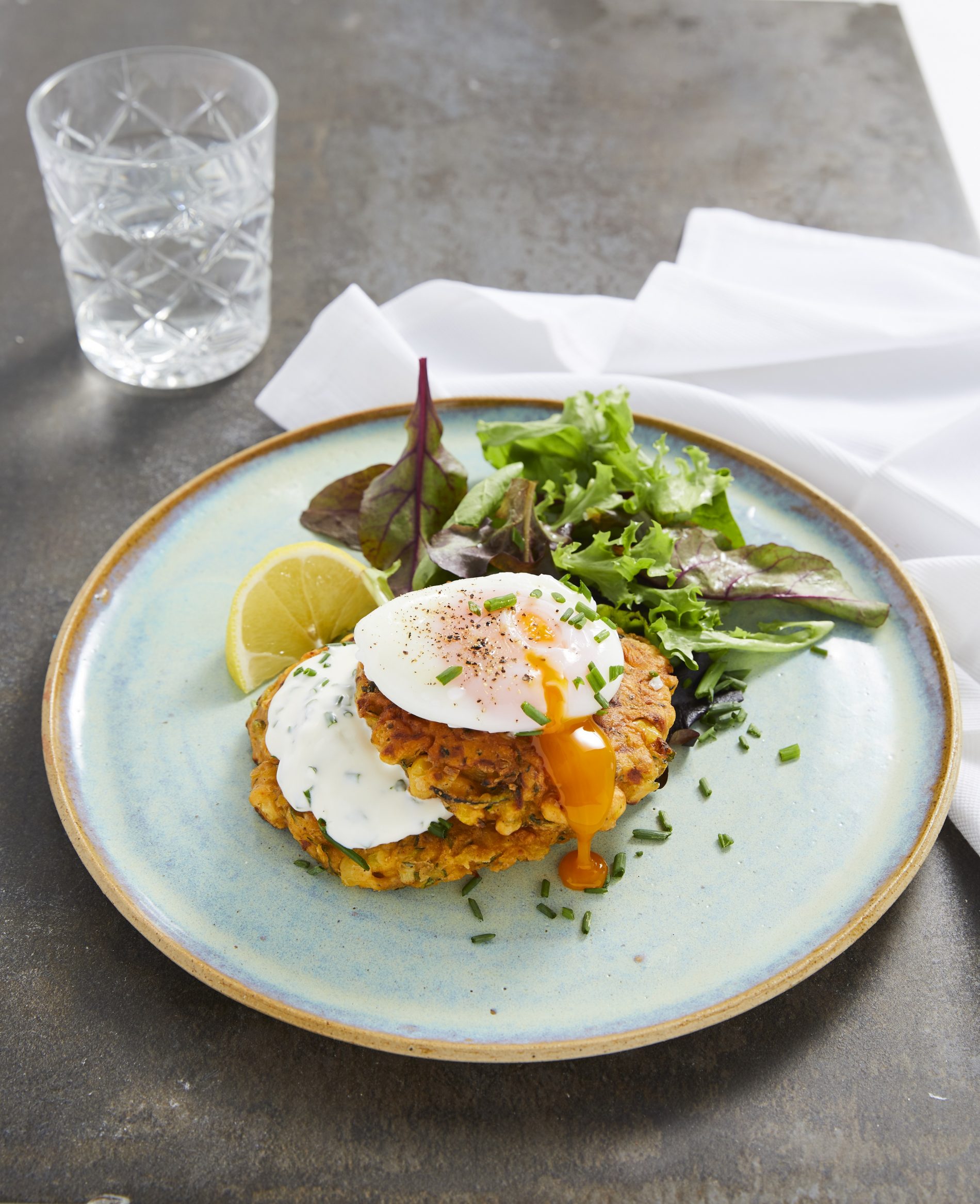 Prep time: 10 minutes

Cook time: 20 minutes

Serves: 4
Ingredients
1 medium courgette

150g tinned sweetcorn, drained

6 Red Lion eggs (4 for poaching)

50g flour

20g spring onion

1/2 tsp chili

1/2 tsp paprika

1/4 tsp salt

1/4 tsp pepper

1 tsp olive oil

1 lemon

120 ml low fat crème fraiche

1 tbsp coriander

2 tbsp chives, finely chopped

1 small side salad per person
Recipe Allergens: eggs, milk and gluten (in flour).
Method
1.

Trim the ends of the

courgette, grate the flesh and squeeze out the excess water before placing in a large bowl.

2.

Dice the spring onion

and add to the bowl along with the sweetcorn, 2 eggs, flour, chili, paprika, coriander, juice of half a lemon and seasoning. Mix well.

3.

Heat the olive oil

in a pan, then add a dollop of the batter to create a fritter the size of a scotch pancake. Flatten with the back of a spoon to make sure the fritter thickness is even and cook for 1 to 1½ minutes on either side, or until golden brown.

4.

Lift the fritter out

with a spatula and set aside.

5.

In a small bowl

, mix the crème fraiche, juice of half a lemon, and most of the chopped chives. Set aside.

6.

For the poached eggs

, heat a large pan of water on a medium heat until small bubbles start to form. Crack the egg into a small bowl, then stir the water to create a light whirlpool and pour the egg in gently. Cook for 3-4 minutes until the white is set, then remove with a slotted spoon and place on kitchen paper to dry.

7.

To serve, stack fritters

in a small pile and top with a tablespoon of the crème fraiche before adding the poached egg, a sprinkling of chopped chives and a side salad if desired.
*This recipe was developed by Aptaclub at part of their Eating for 2 Campaign, together with Chef Lorraine Pascale.