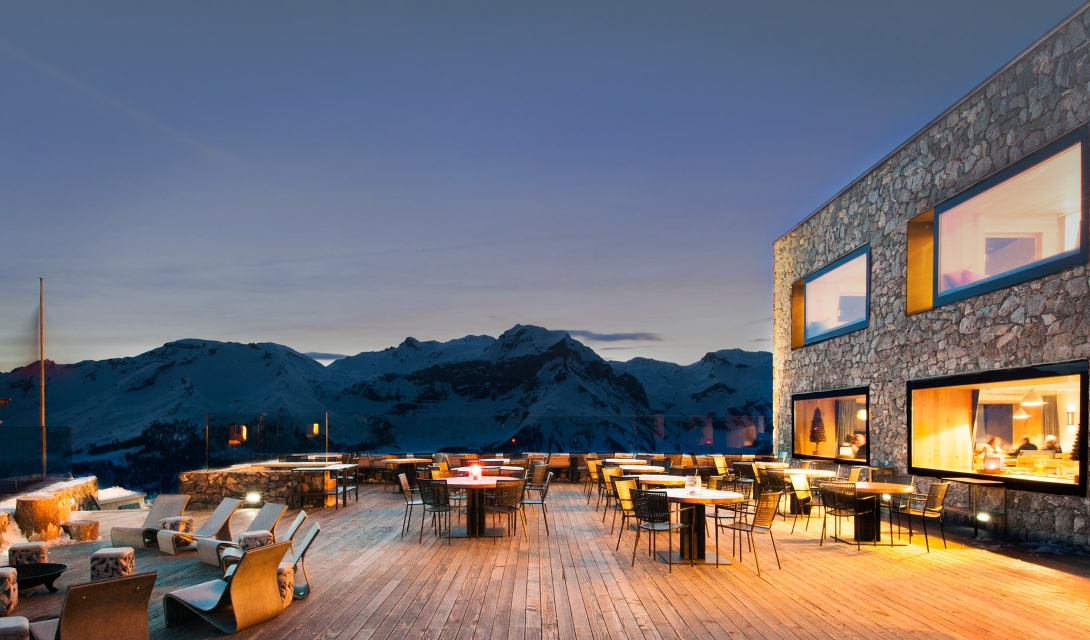 Perched atop the snow-laden slopes of Crans-Montana, with panoramic views of the Rhone Valley and the majestic Alps, Chetzeron takes "away from the crowds" to a whole other level. Located in a former gondola station, this Design Hotels™ member's impressive stone and glass façade houses 16 rooms and suites, all with unrivalled views across the Alpine landscape, from the Matterhorn to Mont Blanc. Towering above the typical mountain resorts in both elevation and style, Chetzeron offers an intoxicating blend of world-class skiing amid splendid isolation.
Blue Sky Thinking
When Original and third-generation hotelier Sami Lamaa set out to create a luxury eco lodge in the Swiss Alps, it was never going to be anything other than unorthodox. For the self-confessed claustrophobe, the traditional wood-clad
chalets huddled together in a busy resort was the ultimate antitheses of his vision of a mountain retreat – ultimately realized in the form of an abandoned gondola station located 2,112m above sea level. It took Lamaa five years, and the overwhelming support of the local community, to gain planning permission to transform the former station into Chetzeron. The result is both authentic and innovative, a hotel that challenges and surprises its guests at every turn.
Together with Lausanne-based architects, Actescollectifs, Lamaa has created a space that pays homage to the industrial splendor of the original structure, while encouraging a sense of warmth and coziness to juxtapose the wild terrain of the surrounding landscape. The cavernous mouth of the cable car station forms the centerpiece of the hotel, now covered entirely by glass, flooding the lobby area with light while offering dramatic views over the mountains with
perennial snow at their peaks.
Large concrete porticos and original station walls crafted from local stone have also been incorporated into the interior design of Chetzeron, creating a sense of timeless charm. The public spaces are large and spacious, yet defy coldness
through tucked-away nooks and discreet lighting. Each of the spacious guestrooms and suites offers a cocoon-like feel, contrasting natural stone with plush bedding and furnishings, resulting in alpine interiors that are traditional yet contemporary. Generous windows throughout ensure that the stark beauty of the hotel's surroundings form an integral part of Chetzeron's visual identity.
Sublime Silence
Thanks to its unique position and adventurous access, the arrival to the hotel is an event in itself, with guests arriving by foot, bike, jeep, ski or snowmobile. Chetzeron is a sanctuary for winter-sports junkies jaded by heaving resorts and
jostling crowds. For seasoned spectators, there are plenty of perches from which to take in the skiers and surrounding splendor, including terraces on three levels that are dotted with hammocks and sun loungers, alongside a heated outdoor pool. Après-ski comes courtesy of the private and public bars, and restaurant serving seasonal cuisine along with Valais wines. Committed to supporting the local community which played such an integral role in getting the hotel off the ground, Chetzeron uses locally-sourced ingredients wherever possible. Local cured meat is a firm favorite and bespoke picnics can be arranged for families, hikers or corporate groups during their stay.
Truly a year-round destination, stunning hiking and cycling routes appear with the melting snow, and the nearby Severiano Ballesteros golf course is a mecca for international golfers, as well as playing host to elite players at the annual Omega European Masters.