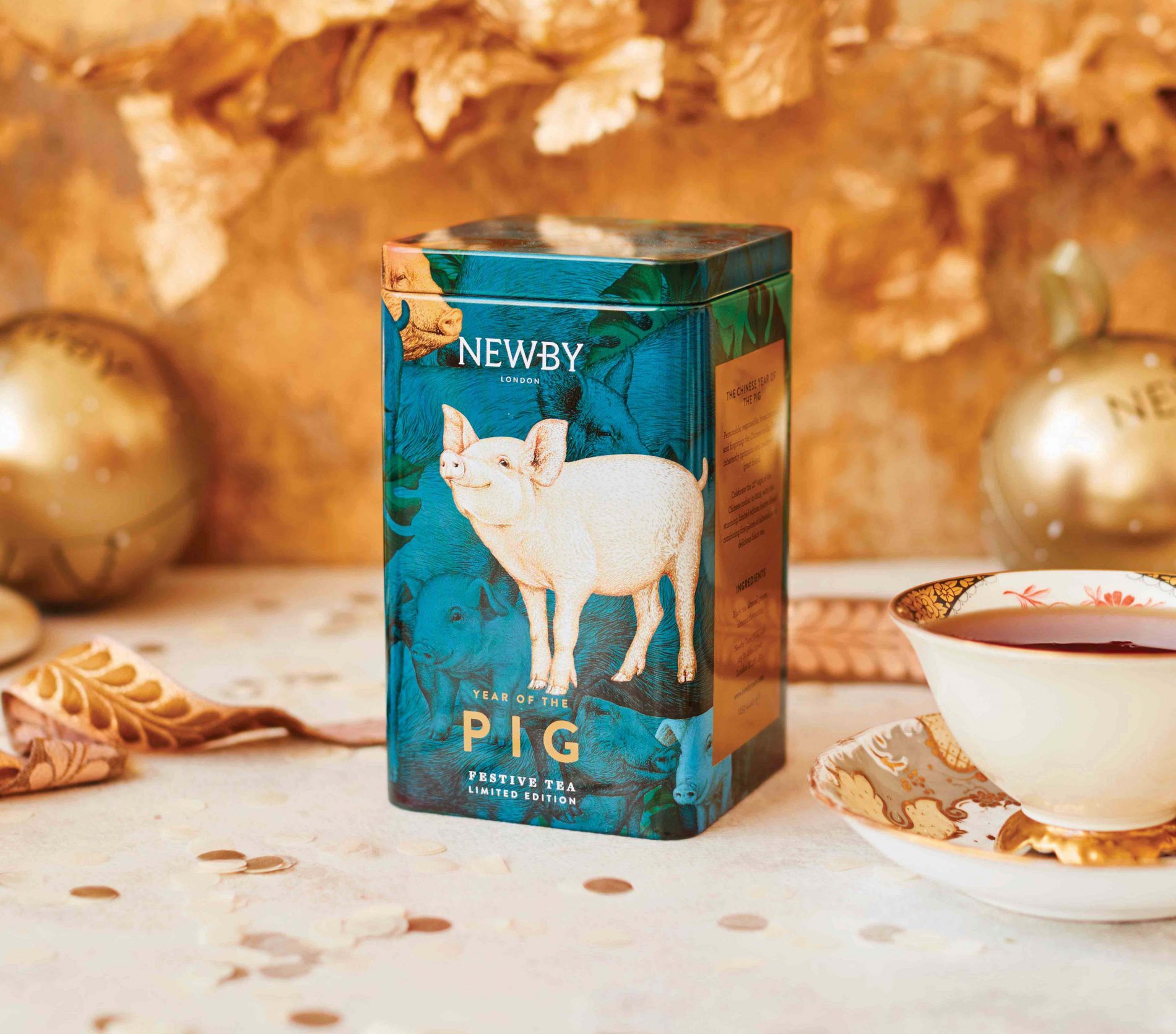 On the 5th of February 2019 the Chinese New Year starts. Celebrate this time of giving by offering as a gift the limited-edition Year of the Pig Tea Caddy from Newby Teas – a perfect and unique way to celebrate the 12th position in the Chinese zodiac.
Mark the new year in style with the exquisite caddy, featuring a stunning stencil design honouring this year's zodiac sign of the Pig. A gorgeous gift for friends or family, each beautifully designed tin also contains a special limited-edition festive blend of Newby tea.
Each inviting caddy is filled with a fine Assam tea flavoured with premium roasted almonds, offering a sublimely smooth and malty taste. This exclusive tea's delicious depth of flavour makes it the perfect gift to enjoy through the colder winter months – ideal for those wanting to curl up and reflect on the beginning of a new year with a warming cup of the finest luxury tea.
Produced annually in extremely limited batches, each caddy makes a truly unique gift unlike any other. Plus, with a brand-new design and delicious blend created each year to honour the new animal sign, Newby's exquisite caddies can also be collected to form a superb celebration of the 12 Chinese zodiacs.
Newby's limited edition Year of the Pig Caddy  is priced at £16 and available to buy via the Newby Teas website: https://www.newbyteas.co.uk/year-of-the-pig-caddy-blue
Newby Teas is the most awarded international brand in high-end luxury tea. The company is committed to the preservation not only of the character of tea itself, but also its history and culture. At Newby, quality is the number one priority. Using just the leaves of a single estate means standards can vary from year to year. That's why only the finest leaves from a variety of tea gardens, picked at their most prime season, are selected.
Newby is a member of the Ethical Tea Partnership, a global organisation committed to improving the lives and environment of tea workers throughout the world and shares the ETP's aims of making tea production better, fairer and more environmentally sustainable.