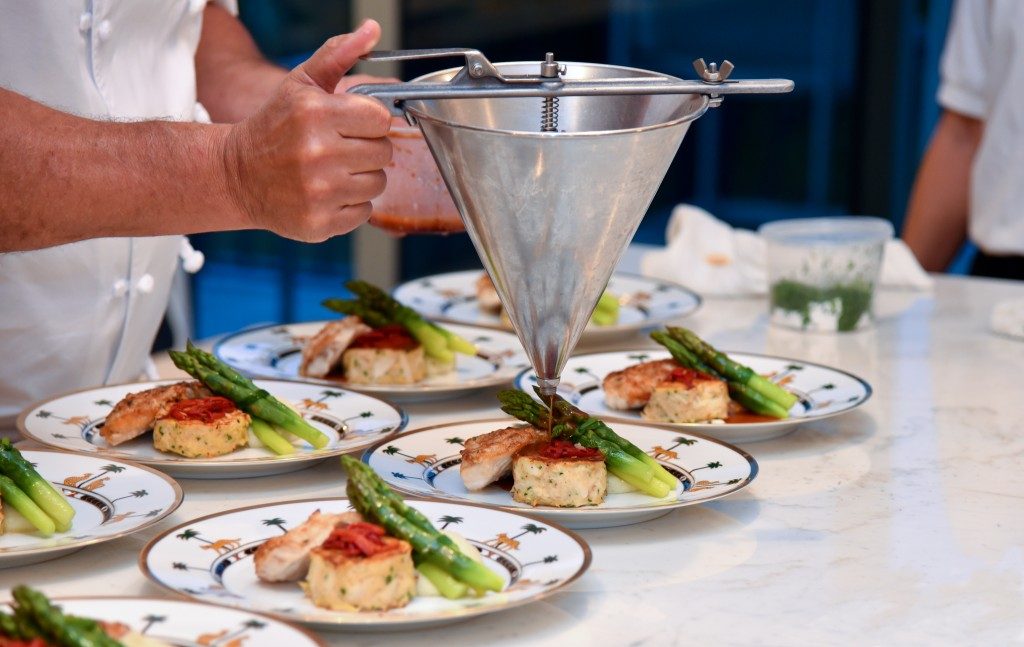 The hospitality industry is more than just simply waiting on tables! There a great number of roles that can appeal to everyone looking for path in the sector, and they all offer a whole host of challenges and opportunities. However, not all of the career paths are obvious though, there are certainly a few hidden bonuses to unveil. Take a look through this run down of some of the most interesting roles available in the catering industry.
Food technologist / food scientist
To be a food technologist, you will essentially need to become Willy Wonka – which can be used as an interesting response when people ask you what you do at social events. This is one of the most interesting roles in the production side of the catering industry, as you'll be responsible for devising and testing new flavours, products and ensuring safe consumption. Consumers are becoming increasingly conscious of exactly what they eat, and this is being incorporated into the production line, testing and labelling these 'zero fat' and 'high protein' products that have become commonplace in supermarket aisles. You'll also be involved in investing new ways to keep food fresh, attractive and safe, as well as finding ways to cut costs and save time in production. Along with blending new recipes, experimenting and creating sample products, you might also design the manufacturing machinery.
Where to start?
A common route to this role is through a degree, however you can also consider an apprenticeship and workplace progression that can lead you to the position of food scientist. Relevant higher education awards include Food Science, Food Studies and Food Technology. Chemistry and nutrition can also lend themselves to securing a role as a food technologist or scientist, but overall, some hands-on experience is always invaluable. Other options include the Food Technologist advanced apprenticeship, and progression from this could lead to a food industry technical professional degree apprenticeship. Those in employment can work towards these roles, in positions such as a lab assistant or a food technician, gaining qualifications while employed.
Average salary and working hours
You should expect to be working between 39-41 hours in this role and the starting wage is around £20,000, which can rise to £45,000 if you're experienced. These roles might involve shift work, and this is predominantly during the evening.
Catering manager
Within the catering industry, you're expected to work in a social environment. Catering is the backbone to many large conferences, parties, weddings and other events. Nowadays, catering can be used to create unique experiences for a whole host of purposes, and as a catering manager, you can be as creative as you want in this sense. From making contacts in the right places, to securing a catering plan that will make people's big events as memorable as possible, the job is extremely varied. This role relies heavily upon communication, initiative and leadership, as well as the ability to think outside of the box. You'll be at the helm of bringing together one-in-a-lifetime events for your clients, and no two days will be the same as a catering manager. Daily, you could be required to organise shifts and rotas, recruit and train staff, meet suppliers and negotiate contracts, cater for dietary requirements and plan various budgets.
Where to start?
Many hotels across the UK are looking to provide their own, innovative training schemes in order to attract recruits into their roles. In fact, numerous Hotels near Alnwick offer these initiatives, as the catering industry continues to grow. Many catering managers start off as graduates or on an entry-level scheme, learning on the job and attending courses in order to gain the relevant qualifications. It is certainly worthwhile looking into such establishments in your location, finding out where these schemes are available. Experience is favoured, even if it is just in the form of a generic events management/catering role. Apprenticeships to pursue for a role as a catering manager will be focused on management, and a college courses to consider is the Higher National Diploma in Hospitality Management.
Average salary and working hours
If you're new to the role, you should expect to earn around £19,000 and if you're experienced, you can earn up to £40,000 depending on location. The hours for this role are slightly more than any typical catering position, working up to 41-43 hours per week. It can be demanding, and often working patterns will fall on weekends and can include bank holidays.
Food manufacturing inspector
With allergies and manufacturing practice being increasingly emphasised, the role of a food inspector is certainly work considering. Many food and beverage companies have placed a lot of focus onto their health and safety departments, and as a food manufacturing inspector, you'll be at the forefront of these all-important processes. Your day to day duties could include inspecting conditions in processing plants, carrying out quality control checks, testing samples of raw ingredients and processed products, presenting results and interpreting data, ensuring that practices meet the required standards, checking labelling is sufficient, producing quality reports and advising manufacturers on how to improve, as well as issuing warning notices if standards are not being met. The training processes relating to these roles is meticulous, due to the complexity of the work.
Routes to take
To start your career path, you need GCSE education or an equivalent certificate, but you can also pursue various apprenticeships. The Level 2 Award in Food Catering, or a Level 3 Award in Supervising Food Safety in Catering are two options to look out for. College courses such as the Level 3 Diploma in Food and Drink Operations is also recommended, providing a combination of theory work and hands-on experience. Candidates could apply directly to a vacancy or gain experience in the field then progress through an existing position.
Average salary and working hours
If you're new to the role, then you can expect to be paid around £15,000, and if you're experienced it should go up to around £30,000. The typical hours are set between 40-42 per week, and the role can involve being on call. For this reason, a driving license can prove to be an advantage.
So, could the catering industry be right for you?
Sources –
https://nationalcareers.service.gov.uk/job-profiles/food-manufacturing-inspector
https://nationalcareers.service.gov.uk/job-profiles/food-scientist
https://nationalcareers.service.gov.uk/job-profiles/catering-manager