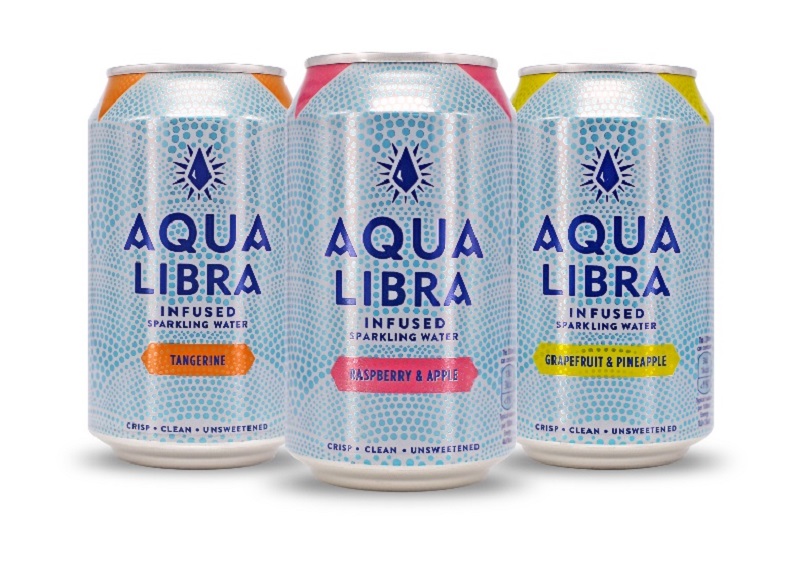 Britvic Soft Drinks will be launching a new range of sparkling waters infused with fruity flavours. The Aqua Libra range is available in a premium 330ml can format in Raspberry & Apple, Tangerine, and Grapefruit & Pineapple, all with no added sugar, sweeteners or artificial flavourings.
This product is the perfect solution for a refreshing uplift for health-conscious consumers, as it has less than three calories per can. The contemporary pack design reinforces its 'feel-good' positioning and this, combined with its convenient, on-the-go, can format offers strong chiller standout and gives cues of refreshment, sophistication and simplicity.
"Across many categories in food and drink, we now often see smaller entrants re-setting category rules with products that are both tasty and healthy. Aqua Libra has purposely been designed by a small entrepreneurial team within Britvic and there is a lot of excitement surrounding this launch's potential, particularly considering the recent introduction of the Sugar Levy. In Soft Drinks, Aqua Libra is the perfect choice for those who often prioritise health, but want bubbles with taste without the sugary sweetness of other soft drinks," said Russell Goldman, Commercial Director, Foodservice & Licensed at Britvic.
Aqua Libra was initially launched in October 2017 exclusively into Boots and has been on sale in 550 of its stores. Now it is being rolled out more widely to selected retail partners.
"With huge growth opportunities expected for the booming water plus category, which is currently worth £279 million, as health remains high on the agenda for so many consumers now and in years to come, stocking a range of innovative waters such as Aqua Libra presents operators with a great way to tap into the health trend and drive sales," further added Russell.
Britvic is one of the leading branded soft drinks businesses in Europe and South America, operating in and exporting to over 50 countries. It is also the largest supplier of branded still soft drinks in Great Britain and the second supplier of branded carbonated soft drinks.