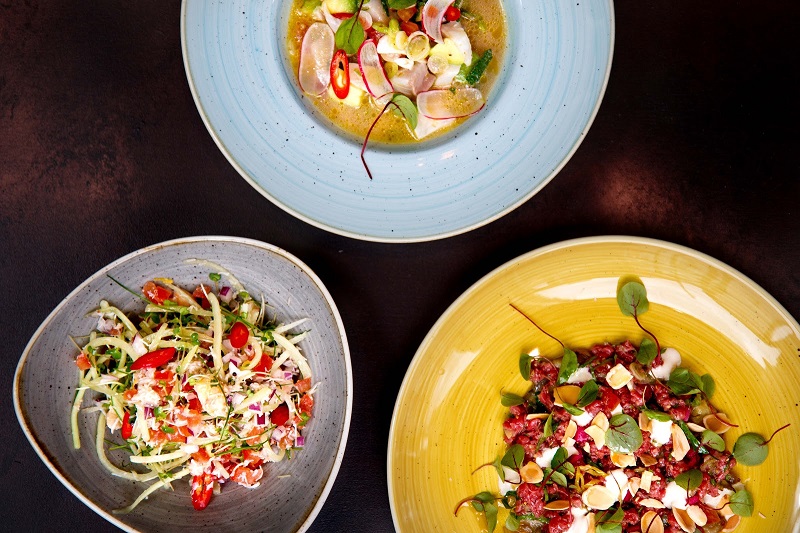 Bistro Vadouvan, and their critically acclaimed French & Spice cuisine, is advertising itself as the perfect location for Christmas parties and events held over the festive season. The restaurant opened this summer and is quickly becoming The destination in Southwest London. The Chef Patron of Bistro Vadouvan, Durga Misra has created a balanced and yet artfully crafted dishes that will bring a new and exciting twist to traditional Christmas favourites and a range of classic recipes.
Bistro Vadouvan will be offering two different Christmas party menus. The Gold Christmas menu is a three course festive lunch or dinner that costs £30 per person. The Platinum Christmas Menu also on offer is a four course festive meal, as well as a raspberry Bellini on arrival. The Platinum Menu costs £40 per person.
For those wanting to book a more private Christmas party, there are three semi-private spaces are available for parties to book, bound to be popular during this festive party season. Bistro Vadouvan also has The Chef's Table, which can seat up to 12 guests and is ideal for groups who are looking for an informal communal dining experience. The Chef's Table can also be used for a pre-dinner drinks reception before enjoying their lunch or dinner on The Balcony. The Balcony is a space that can seat 16 people and is great for group Christmas party bookings.
The stunning collection of dishes that have been created by Durga Misra will astound diners and critics alike this season. The Christmas menu uses the critically acclaimed French & Spice cooking style to create dishes such as boned turkey breast stuffed with pork, with fennel, chilli, black pepper, chestnuts, sage, parsley and lots of olive oil and white wine. The dish is full of amazing flavours and that will combine the classic French cuisine with an oriental spice as well as capturing the Christmas spirit for guests to enjoy.