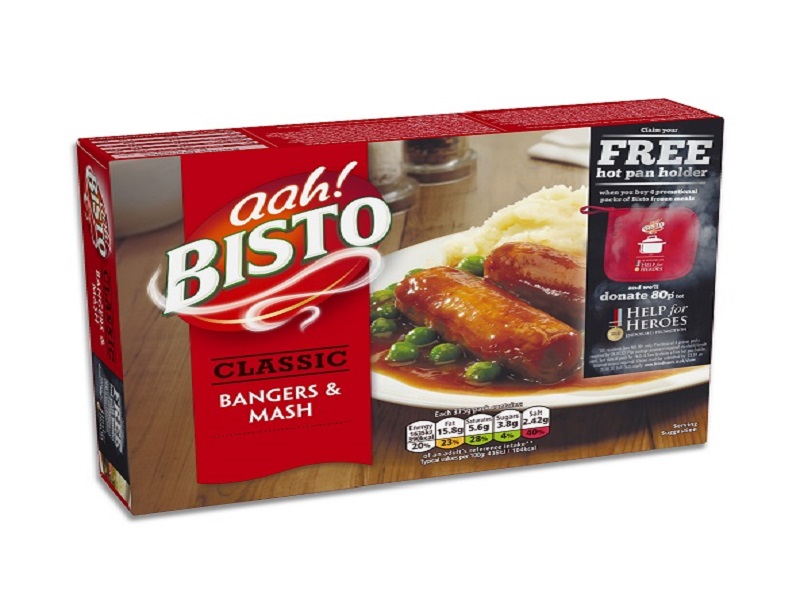 Bisto frozen ready meals to launch second burst of activity to reward loyal shoppers and raise funds for charity
Bisto frozen ready meals (FRM) is continuing its relationship with charity Help for Heroes following a successful on-pack promotion for the range in 2016.  The second campaign in 12 months for the FRM range, which is worth £32million, is designed to drive sales across the range while raising valuable funds for the Charity, attracting consumers and driving sales.
During the initial phase of activity with the Charity in May 2016, which generated 68,000 entries, Bisto FRM pledged a donation of £25,000 to Help for Heroes. Following this success, the range has once again committed a £25,000 minimum donation and is now set to launch phase two of the activity in collaboration with the leading UK charity for wounded, injured and sick Veterans and Serving personnel.
Running for 17 weeks from the beginning of March, the mechanic offers consumers the opportunity to buy four Bisto FRM promotion packs.  Each of the packs will contain a unique code inside, which consumers can submit at www.bistodinners.co.uk to claim a free Bisto and Help for Heroes branded hot pan holder.  For every successful entry (each entry will require four unique codes to be submitted) Bisto FRM will donate 80p to Help for Heroes and will guarantee a minimum donation of £25,000 to the charity.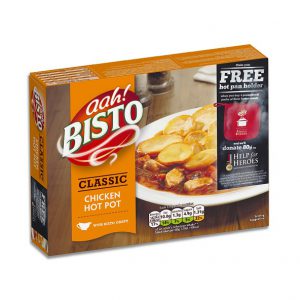 Appearing on over 6million FRM, the promotion will roll out nationwide in major multiples on 20 Bisto FRM SKUs.  Supported by a Help for Heroes flash on-pack, the mechanic is designed to reward consumer loyalty, engage with new shoppers and increase market penetration.
Alongside the campaign, the packs will feature a refreshed design. A new, cleaner look for the FRM range has been introduced, modernising the packaging while maintaining the warmth and tradition consumers associate with the much-loved Bisto brand.
Bisto FRM Brand Manager, Claire Lynch, comments: "It was clear from the thousands of entries in the first phase that Bisto's core customer base is engaged with Help for Heroes and the essential services it provides to support our Armed Forces. As well as continuing to raise valuable funds for our partner charity, the campaign is designed to attract new consumers, drive sales among existing consumers and increase penetration by providing additional reasons to purchase."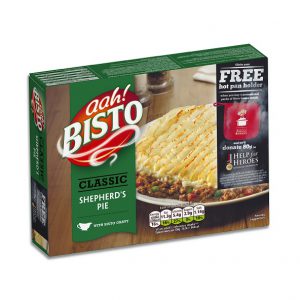 Marcus O'Shea, Head of Brand Partnerships at Help for Heroes adds: "Following the support generated last year, it was a natural decision to continue our partnership with Bisto FRM.  Their customers clearly share our passion to support thousands of our brave men and women, and the money raised will go a long way to help ensure support is provided for the long-term."
Help for Heroes supports those with injuries and illnesses sustained while serving in the British Armed Forces. No matter when someone served, the Charity gives them the support they need to lead active, independent and fulfilling lives. Wounds and injuries – both physical and mental – can last a lifetime, and Help for Heroes is there to help them cope with the challenges they face.
For over 100 years, the Bisto brand has appeared at family dinner tables across the country. Bisto FRM are a key part of the Bisto range and have a retail value of £32m.