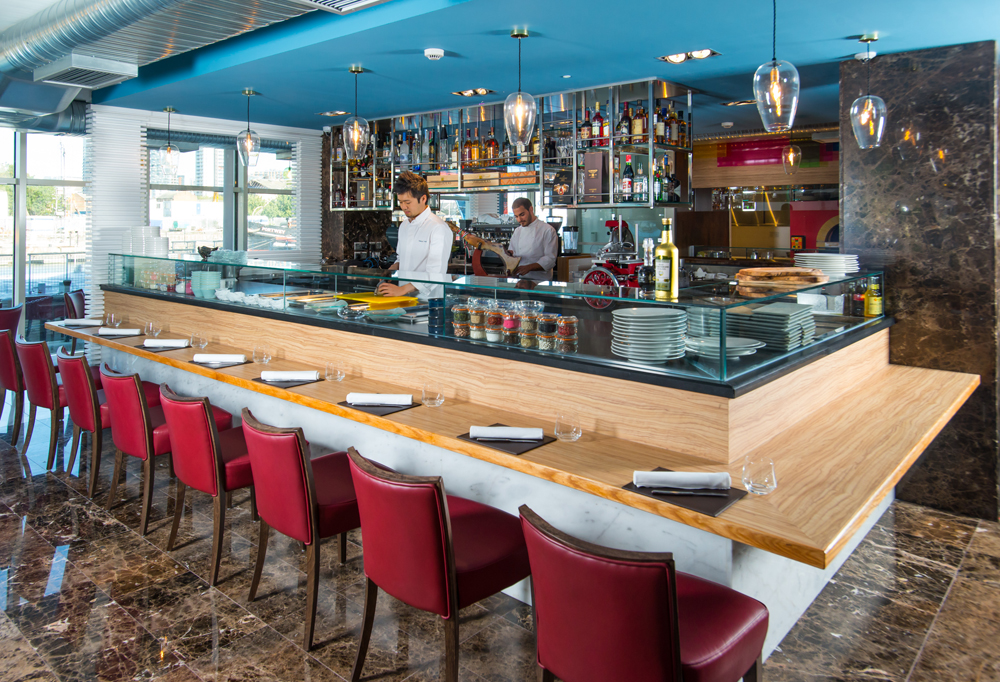 Behind the bar of London's hottest new quayside restaurant, Bella Cosa, stands Head Bartender Martina Furiga. Drawing from her Italian roots and three years spent in Milan studying hospitality, Martina has single-handedly crafted the restaurant's entire cocktail list. Speaking passionately about her job, she says, "The best thing about what I do is being able to create new, exciting recipes and impress diners with original and unique flavours." Martina, aged 29, has worked tirelessly to create a list of cocktails her guests will enjoy by combining delicious homemade syrups with mixers and innovative garnishes. The mouth-warming Italian Sunset and fruit-forward Mediterranean Collins are just two of the beverages on offer.
Cocktail Recipes:
Mediterranean Collins
Ingredients:
50ml Gin Mare
25ml Pink Grapefruit Juice
20ml Rosemary Syrup
Cedtrata
Method:
In a Highball Glass, combine the Gin Mare and Pink Grapefruit Juice.
Stir together, then add the Rosemary Syrup and ice.
Finish by topping up the glass with Cedrata.
Garnish with Rosemary sprig and Pink Grapefruit peel.
Milano Fashion Week
Ingredients:
40ml Campari
25ml Gin Tanqueray
1 spray of Pernod
Method:
In a Boston Shaker, combine the Campari, Gin Tanqueray and ice, then shake strongly.
Spray the Pernod into a Martini glass and double strain the liquid into it.
Finish by decorating the glass with a red Ribbon.
Italian Sunset
Ingredients:
40ml Tequila
30ml Chamomile Liqueur
Pink Grapefruit Juice
25ml Lime Juice
4 drops of Peychaud
Method:
In a Boston Shaker, combine the Tequila, Chamomile Liqueur, Lime Juice and the
drops of Paychaud before shaking.
Wet the rim of a Martini glass with Pink Grapefruit Juice, and add the pink salt.
Pour the liquid into the Martini glass and garnish with a flower.