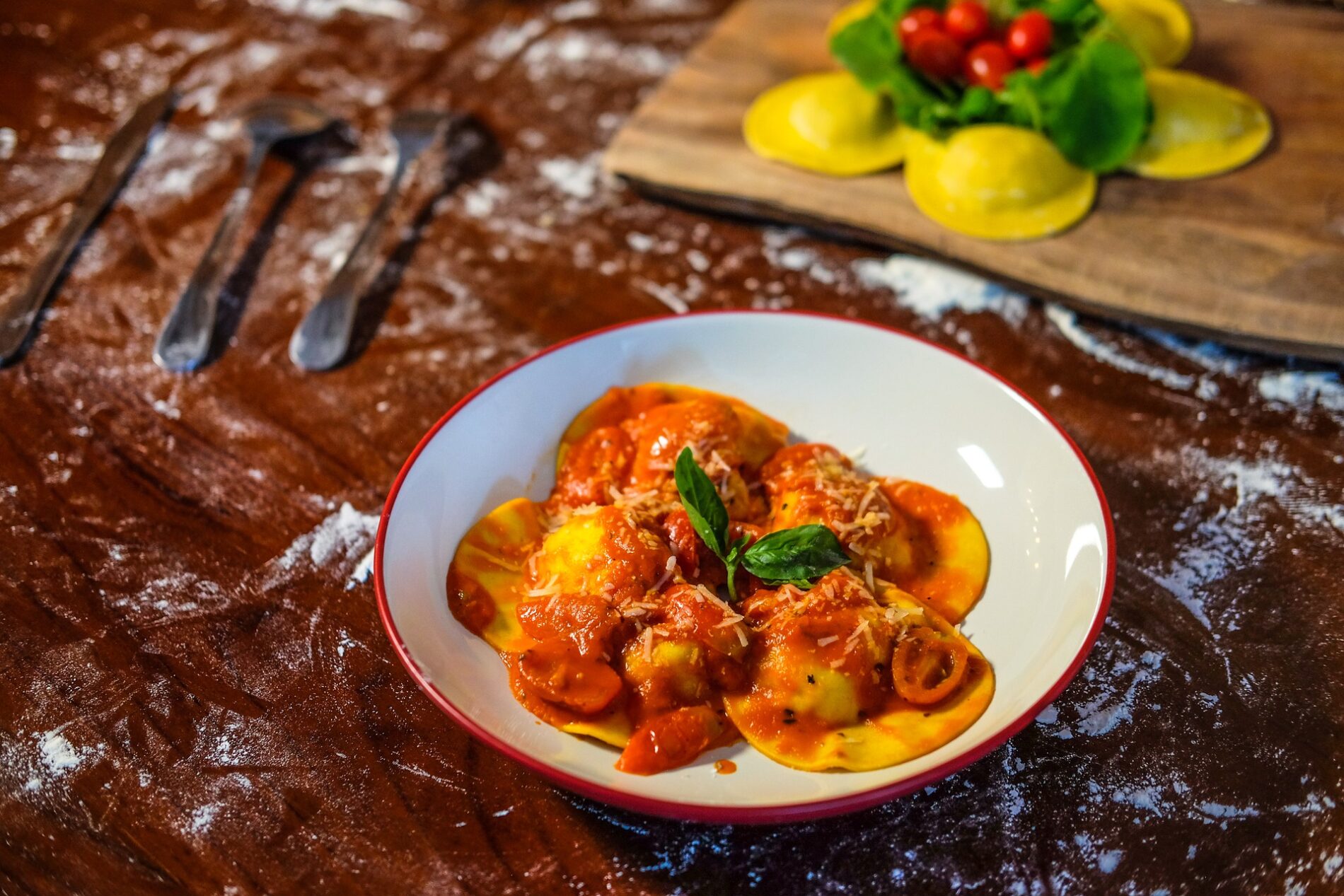 There aren't many people who dislike ravioli. Delicious pasta parcels with luscious fillings, accompanied by a scrumptious sauce — what's not to love? However, it's way too easy to fall into the trap of cliché. The ravioli world is vast and wide, and stuffings can be far more interesting than spinach and ricotta.
For this purpose, we've collected three of our favourite quirky fillings to add a little variety to your ravioli. You can use these with any sauce, however, Pasta Evangelists explain, "as the pasta is the real star of a ravioli dish, we recommend serving it with a flavoured butter rather than a heavier sauce." So, without further ado, here are some of the best decadent ravioli fillings you should try.
1. Beetroot ravioli filling
Not just colourful, beetroot is a delicious vegetable that's packed with fibre and vitamins. Combined with crunchy walnuts, this recipe provides a beautiful pink ravioli filling that is deliciously earthy and nutty. We recommend serving it with a sage-infused butter sauce.
Ingredients
450g fresh beetroot, peeled and quartered
150g walnut pieces
3 garlic cloves, pierced
2 tbsp balsamic vinegar
2 tsp olive oil
2 tbsp grated parmesan
1-2 tbsp fine breadcrumbs
A pinch of ground nutmeg
Salt and pepper
Method
Preheat the oven to 180°C.
Place the walnuts on a large baking tray and allow them to roast in the oven until golden and fragrant (8-10 minutes). Set aside to cool.
While the walnuts are toasting, mix the oil and vinegar in a small bowl and coat the beetroot.
Raise the temperature to 200°C and place the beets and garlic on a small tray, baking for 25 minutes. Stir halfway through and remove the garlic. Allow to cool down.
Add the chilled walnuts into a food processor. Grind finely but avoid turning into a paste. Remove from the blender and set aside a little for garnish.
Squeeze out the garlic cloves into the food processor and insert the beetroot and the parmesan, processing until smooth.
Add the walnuts, as well as salt, pepper and nutmeg to taste (you could even add a tablespoon of balsamic vinegar if you prefer a tangy filling). The walnuts should help thicken the mixture, but adding breadcrumbs may be necessary.
Once it's reached the desired consistency, you can start filling your ravioli.
2. Smoked gouda ravioli filling
While not a classic Italian cheese — in fact, it's Dutch — gouda's balanced flavours and yummy consistency can work beautifully in ravioli. When you add the smoky element, it is truly a delicacy. There's a reason why gouda accounts for 50%-60% of global cheese consumption: it just works. Adding sun dried tomatoes to your butter sauce can also really help to elevate the flavour.
Ingredients
170g smoked gouda, shredded
100g fresh ricotta
50g parmesan, grated
1 egg, beaten
2 garlic cloves
Salt and pepper
Method
In a large mixing bowl, combine the egg and the ricotta. Mix in the rest of the cheese.
Using a food processor, pulse the garlic until a paste is formed. If you want a more subtle flavour, bake the garlic on 200°C for 10 minutes before processing.
Add the garlic paste into the mixture and stir well, ready to fill your ravioli.
3. Olive and mushroom ravioli filling
Olives and mushrooms are Italian staples, so there's no reason not to place them in a pasta dumpling. This cheesy, tangy filling utilises the flavourful cremini mushrooms — one plant development stage after white button mushrooms and a step before portobello — and can be complimented both with a classic tomato sauce or a flavoured butter sauce.
Ingredients
250g ricotta
170g black olives, pitted and sliced
85g cremini mushrooms, minced finely
Salt and pepper
Method
In a large mixing bowl, combine all of the ingredients.
Season to taste and prepare to fill your ravioli.