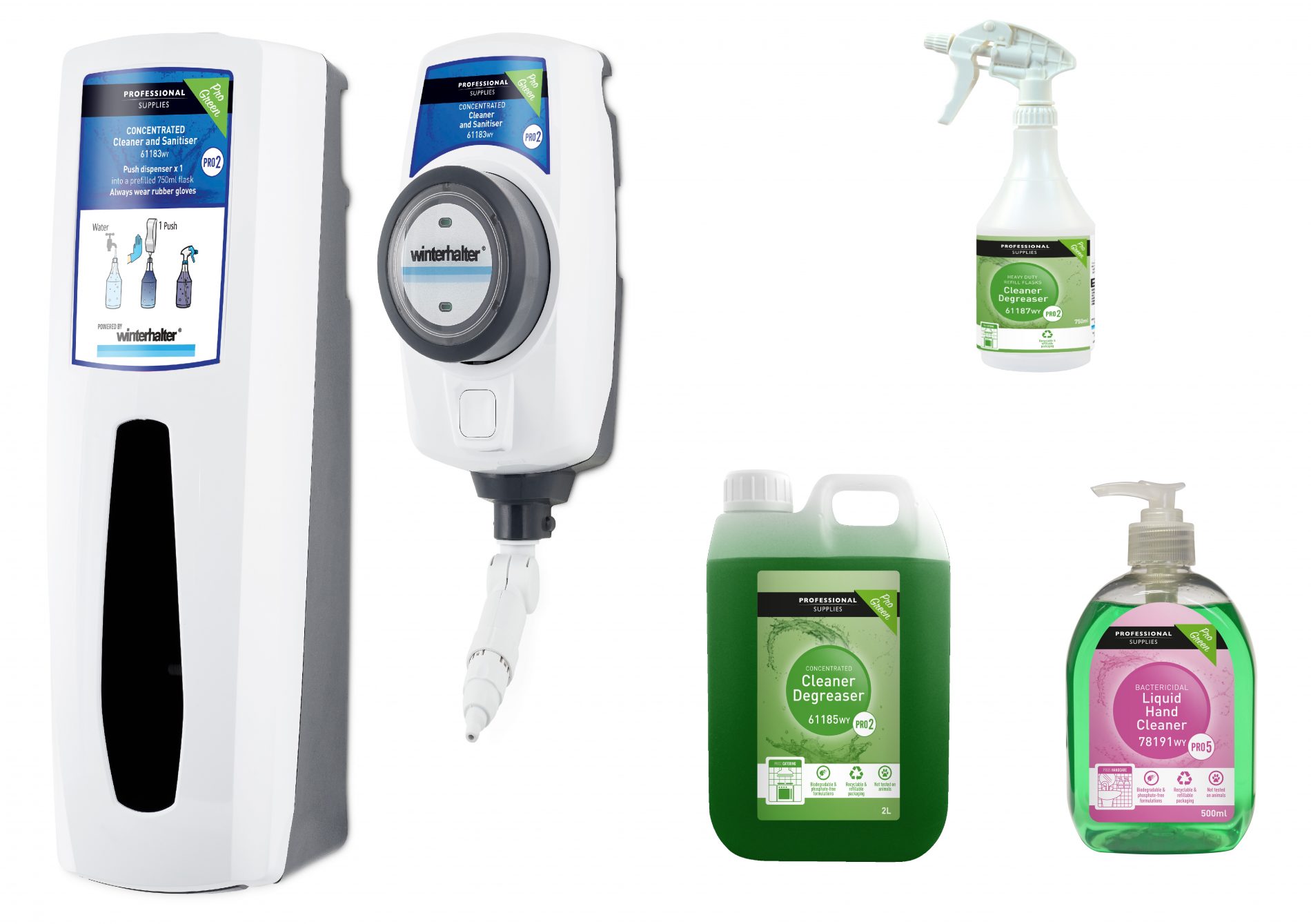 Bidfood has launched Professional Supplies Pro Green, powered by Winterhalter™. The range of vegan friendly, environmentally sound and ethical cleaning products has been designed especially for the catering and housekeeping sectors.
Pro Green is an extension to Bidfood's established Professional Supplies range which covers all areas of kitchen hygiene. It has an impressive list of environmentally friendly credentials including plant-based raw materials such as root vegetables. Besides vegetable derived surfactants and betaines, Pro Green boasts natural fruit fragrances, is phosphate and animal cruelty-free, and contains no harmful additives or unnecessary ingredients.
The new range upholds the importance of sustainability to Bidfood, manufactured under an environmental management system accredited to ISO14001, and a quality system approved to ISO9001. It is also biodegradable to European standards.
Split between catering and housekeeping products, The Pro Green range is available in both ready-to-use and concentrated formulas. All the solutions are compatible and powered by Winterhalter's™ technologically advanced product dispense systems, which utilise Pro Green's reusable trigger flasks and containers, further reducing landfill waste.
"Consumers are becoming more conscious about the impact their choices are having on the environment and this is motivating their purchasing habits outside the home too. Establishments that want to improve sustainability, and appeal to the eco-conscious customer, can do that by choosing Pro Green, now with the added assurance there will be no reduction in cleaning standards," said Andy Small, Bidfood's Brand Controller.
Customers interested in changing to Pro Green can request a site audit by the Bidfood specialist team that will produce a tailored product solution and suggested training schedule for all employees.
The Pro Green range is available for delivery now with no minimum order requirements. Products in the range include:
PRO1 – Dishwashing:  Washing Up Liquid, Dishwasher Detergent, Bactericidal Spray Cleaner, Heavy Duty Cleaner and Degreaser, Enzyme drain maintenance system and Enzyme Floor Degreaser
PRO2 – Catering:  Surface Cleaner and Sanitiser Multipurpose Cleaner and Degreaser
PRO3 – Housekeeping: Bath and Washroom Cleaner, Window and Mirror Cleaner, Toilet Cleaner, Liquid Soap, Enzyme Digester, Enzyme Urinal Cleaner and Deodoriser, and Enzyme Hair Degrader.
PRO4 – Floorcare: Perfumed Multipurpose cleaner
PRO5 – Handcare: Antibacterial foam and hand sanitizer