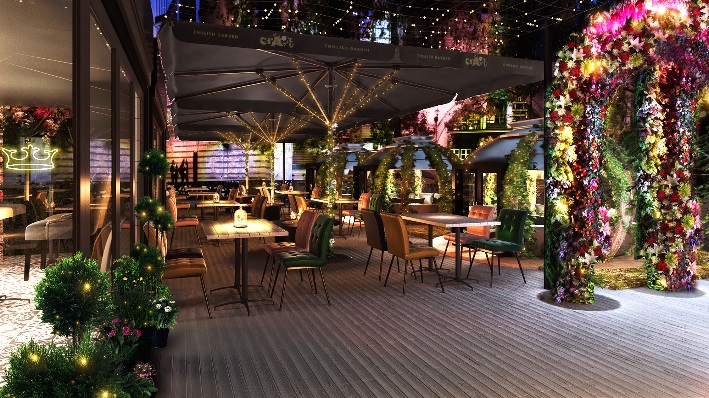 In January 2020, the team behind Craft Dining Rooms and Aktar Islam will be launching the Craft English Garden, a stunning garden terrace and inside dining room bringing a unique drinking and dining space. Located on the Canalside at the ICC alongside the critically acclaimed Craft Dining Rooms, the site will be centred around a beautifully designed bar and crafted dining pods for groups to enjoy. 
The launch of the garden ties in with the news that local restaurateur Aktar Islam (of Michelin-starred Opheem, Legna and Pulperia, and previously of Lassan) has now partnered with Sam and Emma Morgan (owners of Craft Dining Rooms and Craft English Garden), marking a pivotal moment for the group's development. Moving forwards, Aktar will work closely with Sam and Emma to offer the best of British food and drink for the Birmingham audience. 
The Craft English Garden has been envisaged with nostalgia and childhood in mind, recreating traditional British dishes with a modern view and specialising in afternoon tea. Beautifully crafted gin and tonics will lead the drinks menu on the terrace, with over 32 British gins on offer – from small batch gins to more recognised favourites, all customisable with a selection of Double Dutch tonics. The cocktail list will also embrace an English botanical theme, with deliciously vibrant and innovative creations garnished with hand-picked British ingredients. 
The keenly priced wine list will comprise examples purely from little known vineyards across the UK with bottles from Devon, Sussex, and Kent amongst others. The restaurant will offer a large selection of wines by the glass in addition to the bottle and there will be a resident wine expert on hand to provide recommendations and further informaiton about the different varieties on offer. 
With a design led by industry experts Fifi Interior Design, the space will encompass a flora and fauna theme, with hanging planters, floral archways, a feature foliage wall, and a selection of colourful succulents. The garden's botanical-inspired design will embrace a vibrant colour palette, furnished with ambient lighting, luxurious lounge seating, elegant banquettes and warming fire pits for guests to enjoy late into the evening. 
The Craft English Garden will offer Birmingham residents and visitors to the city a vibrant and stylish space in which to enjoy the finest British food and drink in a botanical setting.