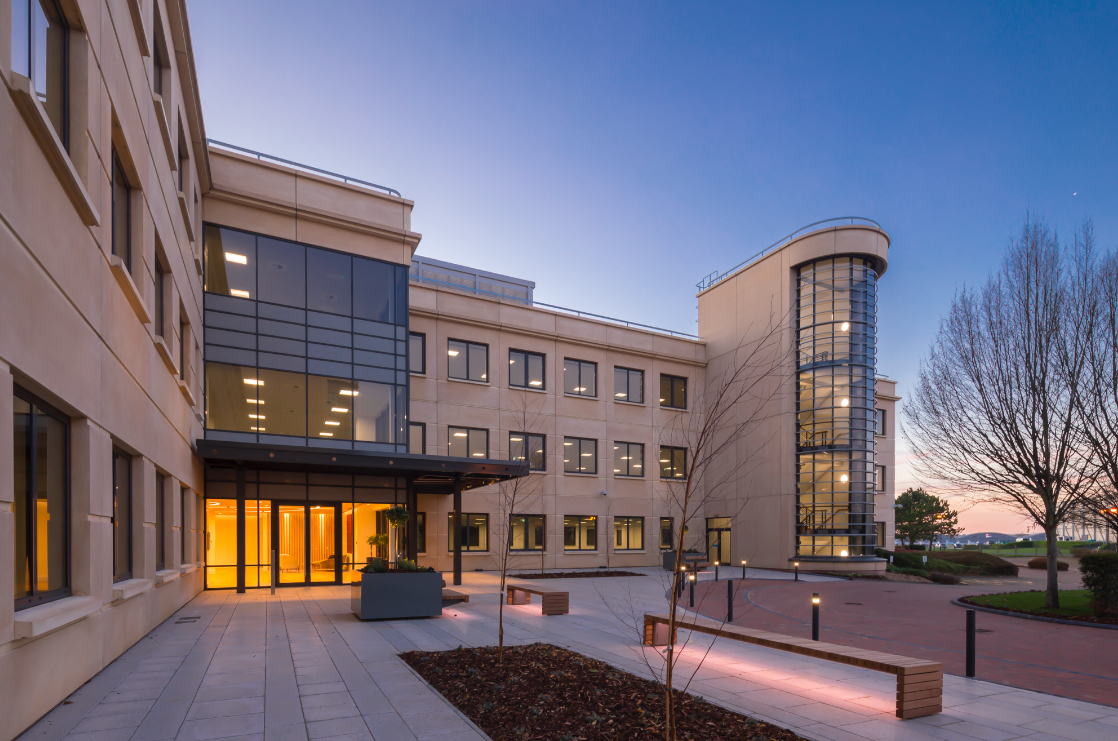 The International business of Federated Hermes has officially announced the signing of leading supply chain specialist, Pelican Procurement Services, to take 10,074 sq ft at the recently refurbished Ascent 4 building at Farnborough Aerospace Centre. The ten-year letting will see Pelican become the first hospitality business to join the Farnborough Aerospace Centre line-up as it aims to expand its operations across the UK.
Previously based at Elstead, Surrey, Pelican is a leading UK professional procurement and supply chain specialist with over 30 years of expertise within the food service and catering industries, supporting organisations with in-house catering provision and supply chain management in the education, healthcare and hospitality sectors.
Stephen Ellis, Senior Investment Manager, at the International business of Federated Hermes said: "The entrance of Pelican to Ascent 4 introduces a whole new industry sector to the business park and highlights how premium office space can be adapted in line with the changing requirements of new occupiers. This marks the third signing secured at Ascent since the pandemic began, reflecting the quality of the Ascent Farnborough scheme, and the resilience of the regional office market."
Ascent 4's flexible floorplates, as designed by Hale Architects, will allow Pelican to fit out the space with a full demonstration kitchen, which will be utilised for training of staff and the testing of new recipes and menus. Pelican will be joined at Ascent 4 by associates from parent company Aramark and fellow subsidiary Trinity Purchasing.
The office space also offers impressive reception and break-out areas and allows for adequate social distancing in line with Covid-19 workplace regulations and advice.
Franco Scannella, Managing Director, Pelican Procurement Services commented: "Growth in our business has led to pressure on our existing space. Having undertaken a thorough selection process, visiting a number of other locations, we felt Ascent 4 was the right building and location for the Pelican team. As we work through the fit-out project I'm both excited and looking forward to delivering an inspiring and motivating space for all our colleagues which supports our culture and matches our future ambitions. I am confident that Ascent Farnborough, with its flexibility, quality and community focus, is the right place to support Pelican in the next phase of our growth."
Taking occupancy at Ascent 4 in Q4 2020, the new arrivals will also benefit from inviting landscaped surrounds, on-site café, gym, dedicated shuttle buses and a roster of Ascent-led community engagement activities including food trucks, seasonal fairs and pop-up stores.
The announcement follows news that specialist pensions administrator, Trafalgar House, has signed to take 5,548 sq ft of space at the second floor of Ascent 4. Further to this, international software firm Infor recently committed to extending its stay at Farnborough with a new 12-year lease at Ascent 1, where the firm is taking 24,620 sq ft of space.
Canmoor has been Federated Hermes' retained strategic advisor throughout the on-going repositioning of the four buildings located at the 250,000 sq ft Farnborough site.
Cushman & Wakefield and Hollis Hockley act as joint leasing agents for Federated Hermes on behalf of Ascent, while Challinor & Co acted for Pelican Procurement Services in the deal.