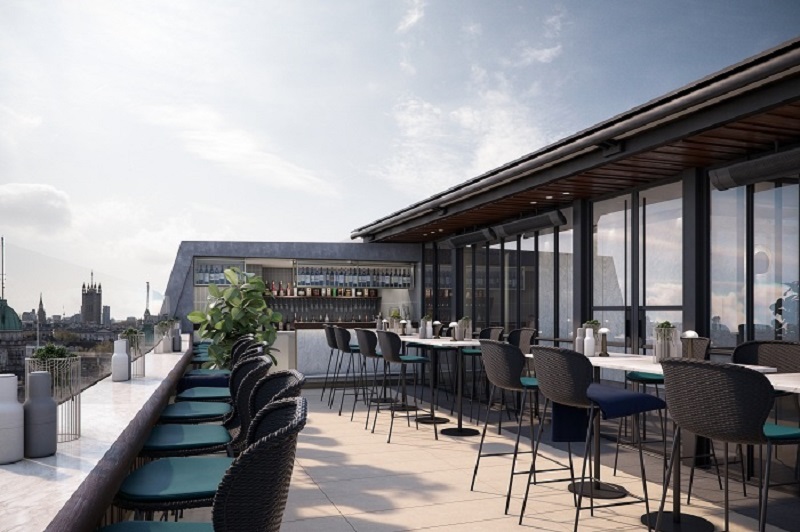 In Autumn this year a hotel will be opening in the centre of London. The Trafalgar St. James will and is expected to become one of the most popular hotels in London. The site is in the middle of a complete refurbishment project and it is thought that all of the work will be finished in Autumn 2017.
The Trafalgar Square Hotel is architecturally noteworthy, and after the refurbishment is complete it is hoped that the site will be put back in to the hearts of those living in London. The work being carried out on the hotel is intended to make it a place for Londoners to go as well as a place for visitors who wish to experience living in London.
The bar, formally known as Vista will be named The Rooftop when the hotel reopens will hopefully become a pace that Londoners want to visit all year round. The Rooftop will have a bigger and more accessible space with a lounge and dining area that has been decorated in the Mediterranean style and the focal point of a private glasshouse what can sit 14 people. The space will be available to privately hire for functions and will offer a constantly updated menu. It is thought that the space will be perfect for enjoying a drink and admiring the extensive views of the London skyline.
Also at The Trafalgar St. James, a new restaurant that will serve food all day will be opened. The restaurant and bar in question will be named 1805 and the space will be designed in order to create an intimate and yet informal atmosphere for diners. The team at work in 1805 will offer a section of British food that has been prepared with a twist, and using the best quality seasonal ingredients.