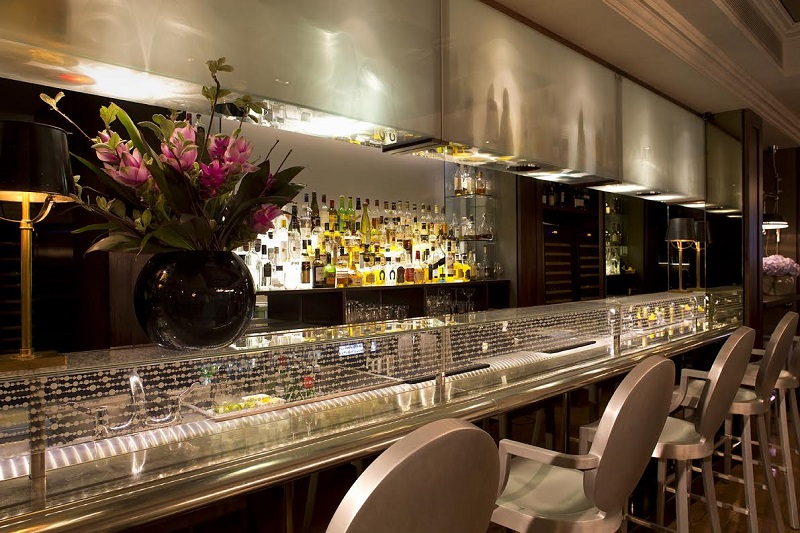 Hunter 486 is a luxurious restaurant that can be found in the Marylebone part of London. The restaurant is forms a part of the five-star boutique hotel The Arch London and has been named after the 1950s dialling code for the area. With the offering of drinks, Afternoon Tea or a sit down Meal, Hunter 486 looks to offer something for everyone while enjoying the relaxed and luxurious space.
As the nostalgia of the name suggests, Hunter 486 has been designed in order to create an air or old-fashioned London glamour with a few more modern splashes to compliment. The restaurant features a selection of leather booths as well as bespoke blown glass chandeliers and statement pieces of art dotted around the space. The restaurant is located next to the Salon de Champagne bar, which is another chic space for guests to visit for a night cap. The kitchen of the area is all open plan and has displayed an array of copper pots and pans that have been suspended from the ceiling. The large windows at the restaurant makes the space light while also allowing guests and diners the opportunity to see the neighbourhood mews which help to reflect the nostalgic London ethos.
Hunter 486 have announced that they will be offering a special Independence Day menu which will be served on the 4th of July. The restaurant will be serving their guests a special three course menu for £28. Included on the Independance day selection are Carb cakes, cherry tomato, sweet corn and bell pepper salsa.The diners have the opportunity to choose between Barbeque beef short ribs or Mac and cheese for their main salad and Vanilla cheesecake and blueberries for dessert. These classically American dishes will be on offer in order to celebrate the American holiday, with guests able to try authentic meals in the classic glamourous space.