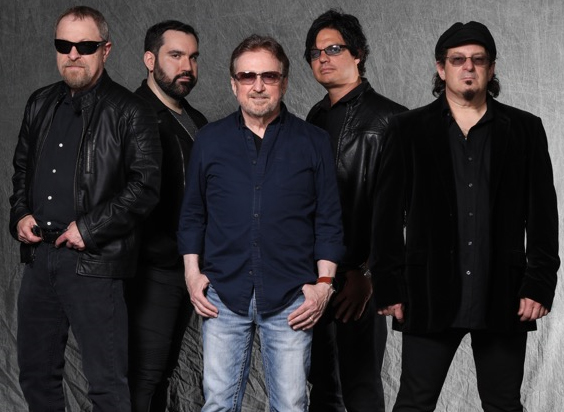 Iconic New York hard rockers Blue Öyster Cult have announced a UK tour for February 2019, which includes a date at Leeds' O2 Academy on 26th February.
Ahead of their Leeds gig, Chuff Media had a chat with Buck Dharma, the lead guitarist and vocalist of the band, to find out more.
1. Are you looking forward to coming back to the UK? What do you most enjoy and how does playing here compare to back home in the States?
Yes I am. I have enjoyed the UK since first coming in 1975. I like the difference in culture and customs compared to the US, and revisiting friends and fans I've gotten to know over the years.
2. What are some of your favourite memories of playing in the UK? Any previous shows that have always stuck with you?
I'm looking forward to playing what used to be called Hammersmith Odeon in London again. We had great shows there in the heyday of Blue Oyster Cult and look forward to returning. Otherwise I like to get out into the countryside and visit the other cities and towns in the country.
3. If at all, how have you adapted and developed your live production and your approach to playing your music live over the decades?
We are currently touring with less special effects and props, focusing primarily on the music and the musical performance. It's essentially what it's all about, and I enjoy concentrating on that aspect of our musical catalogue.
4. (Don't Fear) The Reaper is such a great track that has really stood the test of time. How does it feel to have a song that is so universally recognised and loved, even in 2019? Has the song's success continued to surpass your initial expectations for the track?
It's great that "Reaper" has held up so well over time. It's endurance continues to surprise and gratify me, and yes, I had no idea when we recorded it that it would have had the impact it has.
5. A lot has changed within the Rock community since you first started, but are there any current rock artists that have impressed you over the last few years? Any albums you're particularly enjoying at the moment?
I like The Rival Sons and the new youngsters Greta Van Fleet. I also discovered last year a 2015 album by Chris Cornell called "Higher Truth."
6. Your last studio album, Curse of the Hidden Mirrors was released 18 years ago – any current plans to make another record?
As matter of fact, yes. BOC is recording another LP this year, 2019, the first in many years. Should be out by fall.
7. You have worked and toured with the likes of Patti Smith, Randy Jackson and Alice Cooper over the course of your career – any highlights or people you still have on the wish list?
All our collaborations and touring have been rewarding. I'm open to collaborating with anybody, perhaps some of the younger artists, although I don't actively pursue such cooperation.
8. You have been doing this for over 50 years now which is incredible! Having reached such a large milestone in your career, what inspires you to keep going and keeps you motivated?
I enjoy playing and singing as much today as I ever did. I don't have to work, but I do it because it's rewarding personally. I could live if I couldn't do it anymore, but I truly enjoy it, and will do it for another couple years at least.
9. If you could turn back time, is there anything you would change or do differently?
I have no regrets. It might be nice to have known more about the business side of the Music industry, but I'm not complaining about the way it's gone. I'm lucky to have worked at a job I like all my life.
10. Finally, knowing all that you know now, what advice would you give your former self when first starting out, and what advice would you give to anyone wanting to be in a band now?
Only that I should prepare for a long career. I never anticipated I'd be still doing what I did in my 20's fifty years later. I don't know what to advise young people today. I'm not really involved in the current state of music business, it's changing rapidly, of course, like everything else in life.
Full tour dates can be found below.
BLUE ÖYSTER CULT TOUR DATES 2019
21/2 – UEA, Norwich
22/2 – Eventim Apollo, London
23/2 – O2 Academy, Newcastle
24/2 – O2 Academy, Glasgow
26/2 – O2 Academy, Leeds
27/2 – O2 Institute, Birmingham
28/2 –Anson Rooms, Bristol
1/3 – Academy, Manchester