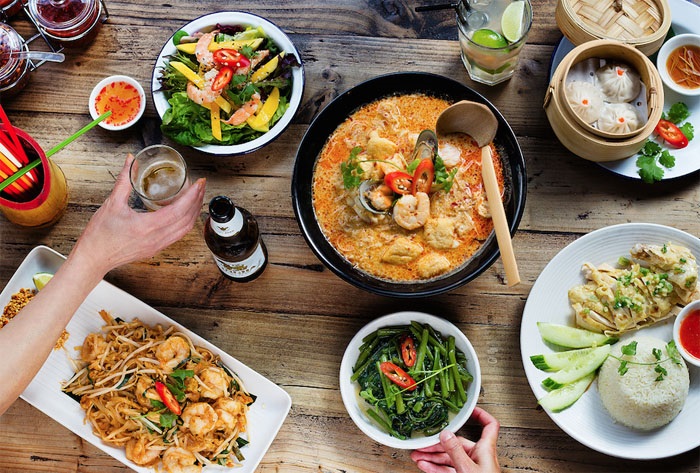 Next week Ekachai will be opening its fifth restaurant in King's Cross. The family-run restaurant is bringing authentic SE Asian hawker food and will take one of the final spaces in the Granary Square development. The confirmed day of the opening is Monday the 15th of January.
Ekachai specialises in 'wok hei', which takes many years of practice to master. Wok-cooking is fundamental to their menu that offers a mix of wok and casual-dining, a street food very popular in Hong Kong, Malaysia, and Thailand.
Some of the highlights of their menu include the Hong Kong dishes 'Handmade XLB', which is a soup filled dumplings with minced prawn and pork hand wrapped in a light wheat flour pastry and 'HK Beef Brisket Noodle Soup' a Cantonese speciality of braised tender beef brisket, fine egg noodles, white radish, and pak choi.
From Malaysia they brought the 'Hainan Chicken Rice' – a slow poached corn-fed chicken with aromatic rice cooked in chicken stock, usually served with spicy chilli vinegar dip and spring onion, ginger sauce, and cucumber garnish – and 'Tempe Soup' which consists of vermicelli rice noodles with fried tempeh, tofu, spinach, and bean sprouts.
Two of the dishes from Thailand are 'Kai Krapow', which is a classic Thai dish of ground chicken with chilli, fine beans, fragrant lime leaves, and holy basil, traditionally enjoyed with a fried egg, and 'Nua Nam Prik Pao' that includes beef slices wok fried with fine beans, lime leaves, and dried shrimp in a fiery Thai chilli paste.
The restaurant will open from 11.30 to 10 pm every day on York Way and it will serve SE Asian comfort-food. The prices vary from £4.95 for the cheapest starter to £8.95 for the cheapest main dish.