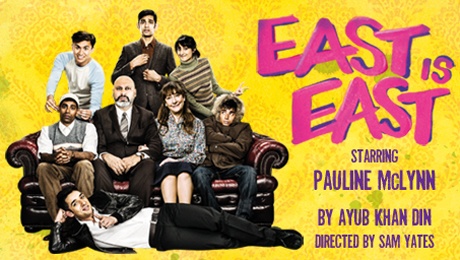 "I'll never let the colour of your Dad come between us. It's not fair coz I love curry an' all."
Summed up neatly by Stella Moorhouse's poignant acceptance of multiculturalism, East Is East continues to be the film and play of an era.
Following its rip-roaring success in London's demanding West End earlier this year, August 31st marks the opening night of a new production of East Is East at Bradford's Alhambra theatre. Pauline McLynn, star of Father Ted, Shameless and EastEnders takes the reigns as bolshie Ella Khan, and is joined by a host of famous faces, as well as emerging British talent, who make up the rest of the Khan clan. With a run of just one week, there are limited opportunities to catch a showing and, owing to its huge popularity, on stage and screen alike, tickets are expected to sell out quickly.
Made famous by its 1999 screen adaptation, which made the names of matriarch Linda Bassett, and soap stars Jimi Mistry and Chris Bisson, East Is East originated as a play of which the aforementioned were part. It's commended as the play that broke taboos; that provided a more honest portrayal of British Muslims which was dreadfully lacking in the decade in which it was penned by Ayub Khan-Din. Set in 1970s Salford, Greater Manchester, the play centres around the Khan family, comprising the highly conventional Jahangir 'George' Khan, his British, Roman Catholic wife and their seven children. As chippie owner George strives to uphold the values and religion on which he was brought up, his second generation children, as British nationals, have markedly more diluted interests in the Pakistani culture and faith.
From the start, this is a play which promises hilarity. There's the familiar: the audience know all too well the tribulations involved in raising children, and the less familiar: cue the children eating bacon, which is forbidden by Islam, while the house is empty.
Delivering innumerable laugh-out-loud moments, East Is East also brings to the fore a culture, religion and peoples which were regularly misappropriated or obscured by popular media. As well as introducing questions of culture and religion, at the heart, this a play about the disparities between generations and how we manage them without eradicating diversity. It was the first to depict the lived experience of British Pakistanis in the UK, and the difficulties of negotiating conflicting customs, traditions, and even delicacies.
Timeless in its themes and packed with laughs, East Is East is back home, in the north. With just a  week to catch the star-studded cast perform this laugh-a-minute script, you'd be mad to miss it.