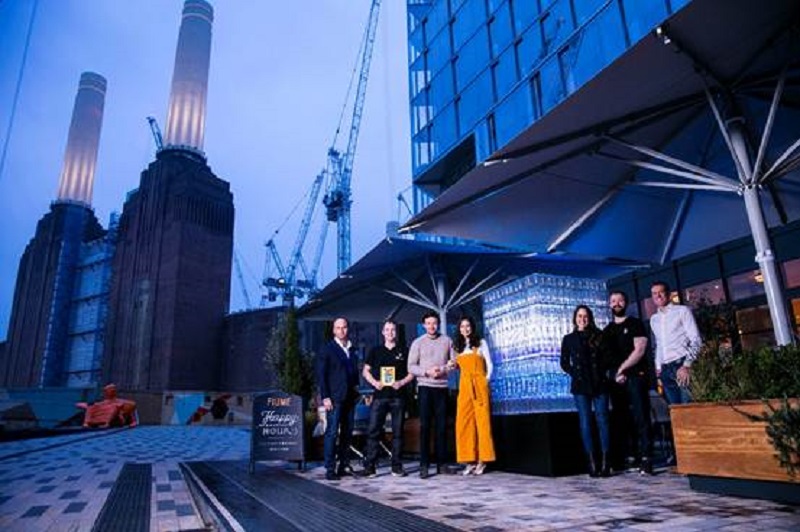 D&D created the MindfulCity campaign as a wellbeing initiative to raise awareness on group waste across all of its restaurants. It will become the first restaurant group to enforce a ban on plastic in their bars, while promoting wellness and fitness for body and soul. They will be hosting mindful menus, fitness classes, as well as a speaker's series in partnership with The World's First Distilled Non-alcoholic Spirits brand, Seedlip.
The symbol of the campaign will be a sculpture installed outside Fiume restaurant at Battersea power Station. It was created in collaboration between Creative Debuts, D&D London, and Belu Water. "Made entirely out of glass water bottles, this installation aims to connect audiences, and bring attention to global water issues. Essential to all, water is life – and is at the core of all humanity," said Callum Hall, Co-Founder of Creative Debuts.
The sculpture is made out of recycled Belu glass bottles which are composed of at least 45% recycled materials. Belu will donate all of its profits to WaterAid, a charity that fights to provide clean water, decent toilets, and hygiene to the world's poorest communities. D&D will also support the charity by adding an optional £1 on every bill to customers throughout January until the 13th of February.
The menus served across the D&D sites will be sustainable and healthy, with the fish restaurants Kensington Place and Fish Market serving 'Blue Planet' Menus and Plateau in Canary Wharf showcasing its first botanical brunch. New Street Grill will offer a special Paleo menu that focuses on quality over quantity.
"As restaurateurs, sustainability and caring for the environment have been central to how we run our business for years. We are also now focusing on giving more choice to customers who want to eat more healthily by choosing vegetarian and vegan options. Last year one of D&D's most successful initiatives was the launch of a weekly Vegan Brunch at Alcazar, our restaurant in Paris," said Des Gunewardena, the CEO and Chairman of D&D.