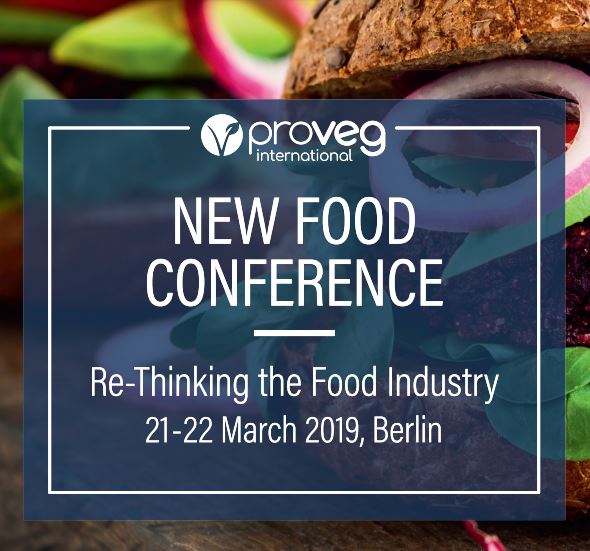 Europe's first ever conference on new protein – including cell and plant-based meats – launches next month. The New Food Conference will be held in Berlin on 21 and 22 March. The first day will focus on the latest developments in plant-based protein, while the second day will be all about cell-based protein technology, also known as clean meat.
The conference, hosted by ProVeg International, brings together scientists, investors, policymakers, entrepreneurs, and companies working in new protein technology. They will be presented with the latest cutting-edge plant-based and cell-based meat research, hear strategies for industry growth, and gain insights into consumer acceptance.
"The New Food Conference shines a light on technologies that are set to radically shake up and change not only the protein market but the whole food industry," said Jimmy Pierson, spokesperson for ProVeg International.
"These technologies have a genuine chance of solving the urgent challenges of the global food system in terms of environmental destruction, climate change, antibiotic resistance, and public health. They would appear to be the future of meat, so let's investigate them more closely."
The conference takes place against a backdrop of the continued rapid growth of veganism, with over 600,000 people having taken part in this year's Veganuary. Meat reduction is also growing fast, with a third of UK consumers having either deliberately reduced the amount of meat they eat or removed it from their diet entirely, according to a report by Waitrose in November.
A new wave of plant-based proteins landed in the UK with a bang last year. The 'bleeding' Beyond Burger made its hotly-anticipated UK retail debut in Tesco and Honest Burger restaurants, while another bleeding plant-based patty, Moving Mountains' B12 Burger, is now available in Marstons pubs and TGI Fridays.
Clean meat could be on sale before the end of the year with the UK public open-minded about the technology. A study of 2,000 Brits conducted by Starcom last February showed that 42% of respondents would be willing to try lab-grown meat or fish if prepared in a restaurant.