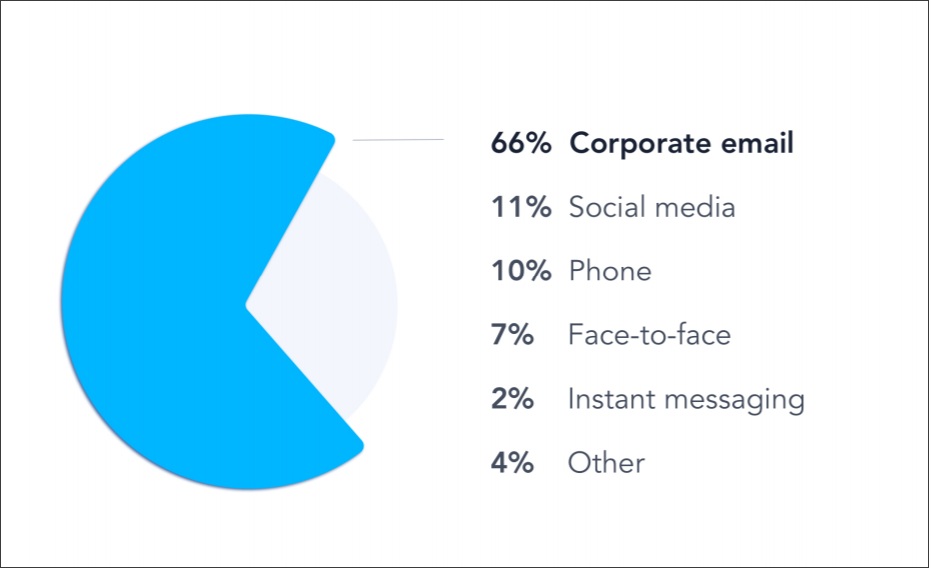 Is using an email signature software an efficient way to promote your company and generate brand awareness? A report made by Newoldstamp on the current state of business email marketing takes a closer look at the issue of using email signatures. How many marketers regularly update email signatures and how it affects their efforts?
Does your email marketing strategy include using email signatures? According to Newoldstamp's recent business email marketing report, it should. With 62% of respondents saying they do use email signature marketing, you might be wondering: "What's the deal with it?" How much useful can that space at the end of an email really be?
It's all about email marketing
Email generates the highest ROI among all other channels. 66% of business professionals send emails to communicate with their customers. There's no magic in that actually, as this channel lets you make sure the message gets delivered.
On top of that, HTML helps you craft that marketing message in a way you find the best. But do you always use sophisticated email templates? With up to 25 email messages sent every day by an average mid-size company employee, it's hardly a 'yes'.
Making a simpler, less cluttered email is often a better decision. Whether it is a cold outreach or a message for a potential partner, you don't want to strike them with your branding right away. But maintaining the integrity of your brand is important nonetheless. So, what do you do?
Use email signature marketing
Email marketing is a powerful tool to establish long-term relationships with customers. When people leave their email address subscribing to your newsletter, not only do they become leads. It's the first sign indicating your efforts pay off.
However, personalization is often neglected in promotional emails. Trying to advertise their features and investing in lead conversions, marketers tend to forget about what marketing is all about. The feeling. Associating your brand with the positive emotion of being special is what email marketing lacks.
Email signature marketing is the kind of addition promotional messages and outreaches need. A branded signoff helps unobtrusively incorporate brand identity elements into emails. These elements include a company logo, branded colors, or even fonts.
Moreover, when you send a non-promotional email, you can't add any CTA elements or eye-catching banners to it. That's where an email signature comes useful. You can add any marketing elements to the email footer without being too pushy or salesy.
Pro tip: Add a font signature to your email footer to make it look even more personal. This simple addition can really differentiate your emails and make them look simply better.
Do people really utilize email signatures for marketing?
This is actually a much more interesting question than everything mentioned before.
The report states that those who use email signature marketing (ESM) usually implement it to increase brand awareness only. And people who don't have signatures installed usually say that they don't know how to run ESM campaigns.
Moreover, only 23% of respondents evaluate the performance of their signature marketing. The essential KPIs here are intuitive: clicks, impressions, and emails sent.
With all that said, one thing is really clear. Email signature marketing is an unexplored essence that many professionals don't know how to use. Generating leads or setting distinct KPIs are found the most difficult tasks when learning how to use ESM campaigns. No matter what's the reason for this tendency, find some useful insights below.
How to make your email signature marketing truly efficient
Just like for any marketing channel, you should know the basics to make things work. So, don't expect to generate tons of leads as soon as you start using corporate email signatures. You ought to master simple things first.
Perfect your email signature design
If something doesn't look appealing to customers, they won't consider it worth their time. So, you should make sure the signatures you and your colleagues use look professional.
Make sure you have branded email signatures installed for all employees. These signatures must have the same style. If they do, your recipients will easily recognize what company reaches out to them. Which means your signatures will serve as email ads.
Even if you have only five people in your company, managing their email signatures might be hard and time-consuming. Martech is what can help companies of any size spend less time on signatures while getting the most benefits.
Automating both email signature management and marketing efforts is what seems to be the problem for many companies. However, there are many marketing technologies that can help in both.
In addition, we have covered the issue of making data-driven decisions in email signature marketing before. If you find this whole topic a bit confusing, check it out.
Email signature management
Since we've started on that, modern email signature generators have a lot of features to help administrators manage employees' sign offs.
The rookie mistake is thinking that you don't need any management at all. Once you let people create their email signatures completely on their own, you can forget about brand consistency in email.
A simple dashboard dedicated to email signature management specifically can save you hours worth of time.
Make email signature marketing your regular activity
35% of the report respondents say they update their email signatures once a year or never. Imagine updating your email newsletter with such a daunting frequency!
The first thing you can do as a marketing manager is to schedule a banner campaign in your colleagues' signatures. In this way, you can promote your blog posts, case studies, new landing pages, etc.
Maybe spend some extra time once to make all your email signatures look perfect and resonate with a certain idea. Then you'll start getting benefits from ESM in no time.
Always treat that space at the end of an email as a huge marketing opportunity. Email signature marketing is arguably the most cost-effective way to get new leads. It only depends on how many emails you actually send. So, don't waste the chance to become one of the first email signature marketing professionals.