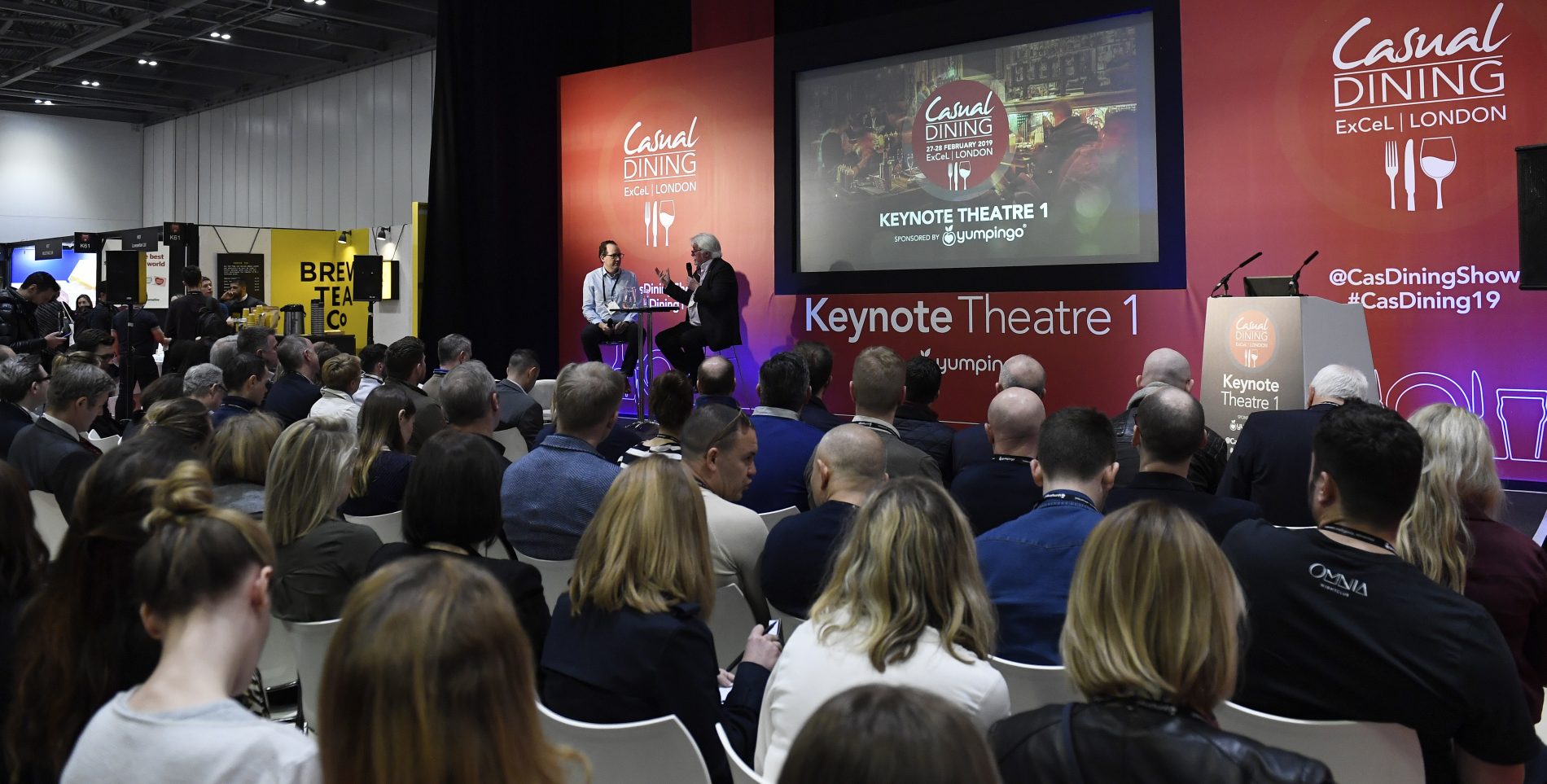 Simon Emeny, chief executive of Fuller, Smith & Turner and chairman of the British Beer & Pub Association, has joined the growing ranks of industry leaders already confirmed for this year's Casual Dining at ExCeL London (25-26 March).
In an exclusive show first, the London-based pubco chief will be making his speaker debut in the new Pub & Bar Keynote Theatre (at 1.30pm on Thursday 26 March). Appearing in conversation with Peter Martin (founder of the Atlantic Club & VP of CGA), visitors can expect candid discussions on what has been a 'transitional' 12 months for the 175-year-old business, plus further details on the exciting new opportunities ahead for its 400+ premium pubs, inns and hotels.
Since joining Fuller's ten years ago, first as group MD then chief executive from 2013, Mr Emeny has overseen many far-reaching changes. Among them: the expansion into 'Beautiful Bedrooms', developing a fresh approach to its pub food offering, on-going investment in staff training, a multi-million pound refurbishment programme (Fuller's new all-day dining restaurant and lounge bar at The Chamberlain Hotel, in London, for example), and, more recently, the sale of the brewing business to Asahi last January.
Learn from the best
Thanks to the addition of a third theatre this year – dedicated solely to serving up expert insights and strategies – focused around leadership, operations, food innovation, legislation and marketing – for pub and bar operators, there's even more great content for the show's visitors to enjoy.
Some 60+ speakers will be appearing in three dedicated theatres (sponsored by Yumpingo) across both days.
Head to Casual Dining's Pub & Bar Theatre early (the show opens at 10am, with sessions starting at 10.15am) for a packed programme of Keynotes, interviews and panels.  Seating is allocated on a first come basis – with standing room crowds expected.
The Pub & Bar Keynote Theatre speaker line-up (to date) includes:
— The Bar Leaders panel: featuring Chris Hill, CEO of The New World Trading Co; Martin Wolstencroft, CEO of ARC Inspirations; and Simon Potts, MD of The Alchemist.
— The Pub Leaders panel: featuring Peter Borg-Neal, chief executive of Oakman Inns; Simon Bunn, MD of Brewhouse & Kitchen; Joycelyn Neve, MD of Seafood Pub Company and Anthony Pender, co-founder of Yummy Pubs.
— Kate Nicholls, chief executive of UKHospitality, reveals what the pub sector needs from the government and the great British public in order to survive and thrive in these changing and challenging times.
— Menu Innovation for Pubs & Bars panel: featuring Seamus O'Donnell, executive chef at The Alchemist; Ross Pike, chef director at Oakman Inns; Mark Teed, head of food at Star Pubs & Bars; and (session chair) chef and food consultant Jay Morjaria.
— Marketing for Pubs & Bars panel: Simon Allison, head of marketing at Inception Group; Anna-Marie Mason, brand marketing director at Mitchells & Butlers; Jenny McPhee, head of brand at The Alchemist; and (session chair) Ann Elliott, CEO of Elliotts Agency (and a former marketing director at Whitbread's Beefeater chain and Pizza Hut).
— Operations for Pubs & Bars panel: featuring Will Prideaux, operations director at Nicholson's – Mitchells & Butlers; Chris Stagg, operations director at Peach Pubs; and Simon Stenning, founder of FutureFoodservice.com.
— Graeme Loudon, commercial director at CGA, outlines how the pub market is changing in response to ever evolving consumer needs and its big implications for food and drinks trends in 2020.
"A visit to Casual Dining is the best way for pubs to find new products, new ideas and get ahead of the game. It's the best trade show for pubs – and it's the best trade show full stop!" says Anthony Pender, co-founder of Yummy Pub Co.
"Casual Dining is the leading show for pub operators who are looking for new products just for their industry. I'm delighted to be speaking in the new Pub & Bar Theatre. See you there!" says Mark Teed, head of food at Star Pubs & Bars.
Eva Ellis, Casual Dining's event manager, says: "We are thrilled to be able to offer our visitors such an incredible Keynote line-up for 2020. And we've still got so many more big names to announce!
"Our new Pub & Bar Keynote Theatre allows us to give even more exposure to these great pub and bar operators. Casual Dining is already well-established as the destination show for pubs and bars, with more buyers visiting year on year, and these new speakers just make it even more unmissable."
Ei Group, Mitchells & Butlers, JD Wetherspoon, Punch Taverns, Marston's, Greene King, Whitbread, Fuller's, Star Pubs & Bars, Thwaites, Charles Wells, and Young & Co's are just some of the high street names that have already pre-registered to attend. As have, of course, hundreds of smaller independents from across the UK.
"I don't think there has been a time where our industry has needed a show like Casual Dining more than it does now. A place where operators can be face-to-face with the latest innovation to keep their sites moving forward! These are the two days a year where the whole of the sector can come together and do business… and I am delighted to be speaking there again this year," says UKHospitality's Kate Nicholls.