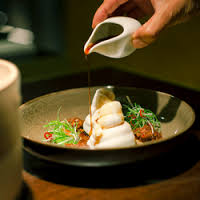 International luxury travel brand, lebua, which operates a number of distinctive hotels, fine restaurants and bars around the world in has launched its first venture in Europe, by bringing Breeze restaurant and bar to the Steigenberger Hotel in Frankfurt.
At its home in Thailand, Breeze is located on the 51st and 52nd floors of the Tower Club at lebua, the only luxury executive all-suite and all-club hotel in Bangkok. The restaurant is known in the region as 'the new face of Asian dining' with stunning views, unparalleled service and delicious cuisine.
The unique restaurant menu combines modern Asian flavors with traditional wines local to the hotel and the region. Whilst the bar menu includes an impressive selection of experiential cocktails and unique liquor suppliers, such as Koval Whiskeys from the USA.
Frankfurt's newest luxury restaurant "Breeze by lebua" has opened in the centre of downtown Frankfurt. Located in the Steigenberger Hotel "Frankfurter Hof," Frankfurt, visitors can expect first-class pan-Asian cuisine and unparalleled service in an atmospheric setting. The new restaurant is operated by esteemed international luxury travel brand, lebua Hotels and Resorts.