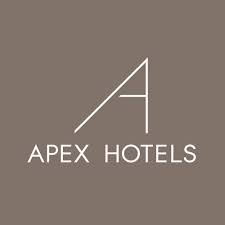 Scottish hotel group Apex Hotels is searching for a group of six budding hospitality stars to join its team as part of The Scottish Apprenticeship in Hospitality programme which is currently offering 22 places in a number of different locations across the country. Two of the six places will be available at the new four star Apex City of Glasgow Hotel which is currently undergoing a £10.5 million refurbishment, due to be fully operational in early October.
This world-class, industry-led programme is a partnership between some of Scotland's leading hotels including Apex Hotels, Gleneagles, Blythswood Square, Cameron House and others. It offers young people a route to gaining qualifications alongside practical experience in some of Scotland's leading hotels.
Commenting on the scheme Robert Allan, HR Director at Apex Hotels said: "The Scottish Apprenticeship in Hospitality gives bright and motivated 17-24 year olds an opportunity to get on the career ladder within the hospitality industry, working in a number of exciting and varied roles.
"It is a great opportunity for us to nurture and develop the next generation of highly skilled talent for the Scottish hospitality industry, which offers a huge variety of career options. There's never been a better time to join the industry in Scotland – with the legacy of the major events of 2014, tourism is booming."
The three year long programme, which is backed by the Modern Apprenticeship Hospitality framework, is open to 17-24 year olds and the high calibre of partners involved gives them the opportunity to experience working across a range of hotel operational areas in addition to hands on workshops and masterclasses.
Olivia Mitchell, one of nine apprentices on the scheme since September 2014 and currently working at the Apex City Quay Hotel and Spa said: "I joined the programme last autumn and I have already gained invaluable experience which will stand me in good stead to progress my career within the industry.
"I chose to do an apprentice programme as opposed to going on to further education as I wanted to gain hands on experience while learning, something I have certainly been getting since I started. It really is a great opportunity to begin your career at a young age while earning a salary at the same time."