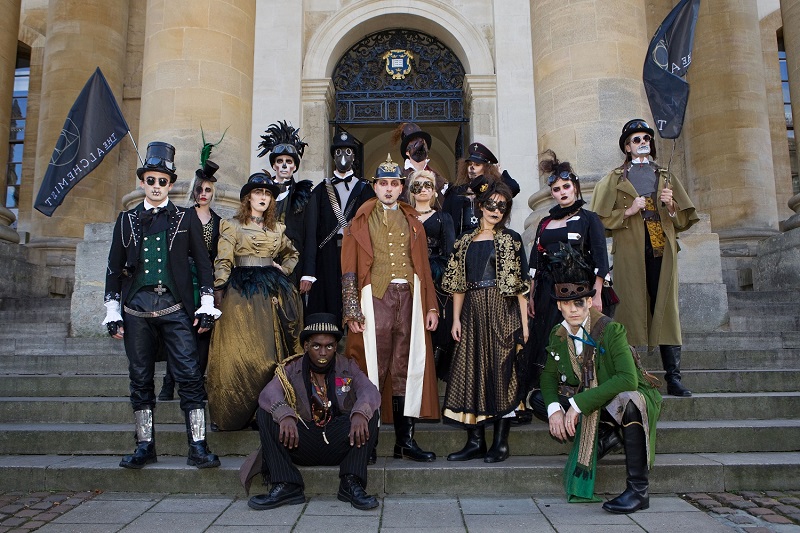 The Alchemist, the premium bar chain launched in Oxford on the 28th October. The premium bar that offers a range of innovative and spectacular cocktails at their bar and restaurant were celebrating their launch with a street theatre takeover. The event featured a troop of 14 steampunk inspired characters in a display that has been created to both disturb and delight locals ahead of the opening. The performers, as part of this spectacle, travelled across Cornmarket Street and Queen's Street in order to show off and tease those in the city with the mysterious guise that The Alchemist has become well known for.
In order to engage with the people at their new home, The Alchemist performers created a range of shareable moments in order to boost the pre-launch buzz last week. These moments included encouraging the locals to engage with the street theatre performers, as well as a free drink being promised for those who shared this spectacular experience on Instagram. The Alchemist has been making its mark on the city for some time now, with the appearance of urban art around the centre of oxford, and The Alchemist logo being cleaned on to the dirty pavements and walls around the city.
The Chain has invested £1.5 million into the new site, that is now open in the Westgate Shopping Centre. The venue is 4,600 sq. ft. and the opening of this new bar and restaurant will create 75 full and part time jobs for the local area. This new premium venue is dedicated to offering their guests an immersive drinking and dining experience.
The Managing Director of The Alchemist, Simon Potts has said that it was important that the brand's arrival in Oxford was unconventional and made an impact. The business wanted to put on a show that made the locals imagine things differently, a central part of the company's vision. Oxford is steeped in history, mystery and intrigue and also offer a food and drink scene that is, at the moment, unrivalled. The city is currently enjoying a renaissance and The Alchemist will be an exciting new addition to this scene.