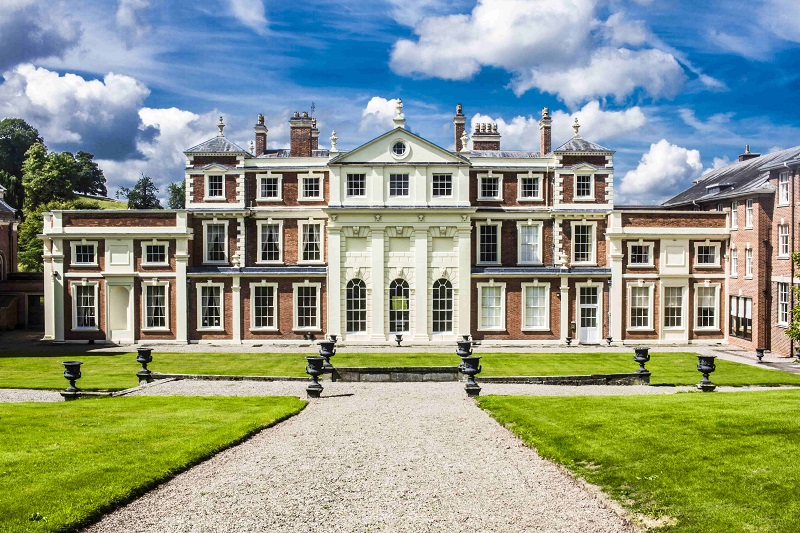 The Grade I listed stately home, Hawkstone Hall has announced that it will be launching an exclusive hotel and venue. Hawkstone Hall is a grand Grade I listed 18th Century mansion located in Shropshire. The Hall is set in a spectacular 88 acres of beautifully manicured gardens has as recently been purchased by The Distinctly Hospitable Group.
A sympathetic refurbishment of Hawkstone Hall has been planned in order to restore the spectacular Georgian property to its magnificent splendor before the summer next year and the predicted opening. The Distinctly Hospitable Group is the fourth owner of this stately home in its 550-year history, originally built as a stately family home then left in the care of Catholic missionaries until June of this year when it was sold to the hospitality company.
This imposing property and the expansive grounds will be the perfect location to hold extravagant corporate events, music festivals, yoga and fitness retreats as well as a truly memorable location for a whole host of celebrations. There is a large amount of entertainment space which when combined with the 88 acres of ground and copious accommodation possibilities, The Distinctly Hospitable Group have the foundations for the creation of a sensational retreat that will be set to rival the best of the UK's event venues.
Guests will be able to enjoy the wide range of communal spaces, including an impressive main hall, magical ballroom and refectory. This 18th Century retreat sits handsomely among the acres of manicured lawns that deliver the splendor of the Grade I listed building as well as a classic countryside charm with a rose garden, croquet lawn, apple orchard and romantic 'secret garden'.
As part of the refurbishment planned and the discovery of a water supply on the grounds, the company is intending on reinstating the original 18th Century Lilly Pond, fishing pond and waterfall which will allow these gardens to bloom once more. The Group Development Director for The Distinctly Hospitable Group, Hannah Whiting has commented on the work that has taken place so far, and has expressed delight on behalf of all those working on this refurbishment at the opportunity to be involved with the restoration of one of only two Grade I listed buildings in Shropshire.