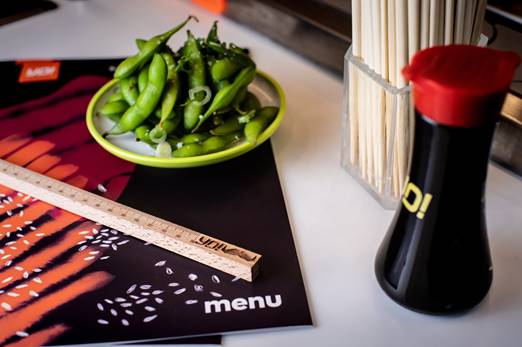 In a bid to raise awareness and donations for Movember, the leading charity changing the face of men's health, YO! has proudly partnered with the charity.
As Movember's newest partner, YO!, the Japanese and sushi restaurant group, recognises that opening up about mental health is an industry wide problem, with a recent report revealing that eight in ten chefs have experienced poor mental health during their careers. Whilst already trying to tackle mental health issues internally, YO! is launching several initiatives throughout November to encourage both men and women to spend quality time together to talk about their mental health and break the stigma of suffering in silence.
As part of the partnership, YO! is hosting a panel talk with Movember and Countertalk, an organisation that helps to connect industry bodies. The event's aim is to encourage people to talk more about their mental health issues, whether that be in the workplace or at home, as well as opening up the floor for a Q&A.
The panel will see three industry experts answers questions and share advice; including Alyson Hancock, HR Director at YO!, Sarah Coghlan, Global Health Promotion Director at Movember and Merly Kammerling, from Me, Myself and Mind which focuses on providing workshops for the hospitality industry.
Alyson, HR Director at YO!, said: "We're honoured to be Movember's official restaurant partner and help with its mission to raise awareness of men's health issues, particularly their focus on mental health. This year we have launched a new wellbeing policy and trained mental health first aiders at work and so the partnership with Movember and opportunity to raise the conversation with our teams and customers was an obvious one".
"We know it's hard for people, particularly men, to open up and talk about their feelings and we believe that the seating in YO! restaurants makes it much easier for customers to communicate. Rather than having to sit opposite one another, visitors can sit side by side in a relaxed atmosphere, which can be much less daunting when talking about sensitive subjects."
Anne-Cecile Berthier, Movember UK Country Director said: "Movember is very excited to welcome YO! as our newest partner this year. We look at mental health through a male lens, focusing on prevention, early intervention and health promotion. We're working towards a world where men take action to be mentally well and are supported by those around them. Having the support of an organisation like YO! will help us meet this objective.
"We're also incredibly grateful for the support of everyone at YO! who are raising money for men's health through the month of Movember."
YO! is launching its 'Mate Date Mondays' in November to promote having real conversations with your nearest and dearest. Those who come along with a friend, family member or colleague will receive a 25% discount off their food bill using their Mate Date code, which can be redeemed via YO!'s website. YO! is also launching a limited-edition 'Guy-oza Menu' across all restaurants, for every dish of gyoza sold in November 10p will be donated to Movember. Lastly, YO!'s staff will also be armed with chopstick-style rulers so that any customers who are growing a moustache for Movember, will be rewarded with a discount based on the size of their 'mo. The bigger the moustache, the bigger the cash saving.