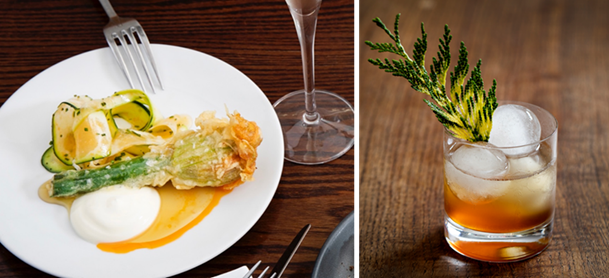 With autumn firmly upon us, Fitzrovia's Salt Yard is embracing the fall with its latest developments. Following a light-touch refurbishment, the Spanish and Italian charcuterie bar and restaurant has a range of new dishes alongside fresh spins on signatures. What's more, the star of its tapas menu has had a makeover and there's an intriguing line-up of hand-crafted cocktails at the bar.
Salt Yard Group's original, which also includes Ember Yard and Dehesa nearby, Salt Yard has been serving a sun-kissed taste of Spain and Italy on Goodge Street since 2005. In late August, its downstairs dining room was stripped out and given a new lease of life: now dressed in earthy, woodland tones, its Lincoln-green walls are paired with deep brown leather cushions and sand-coloured wood panelling. The look reaffirms Salt Yard as a purveyor of the Mediterranean experience, which is reflected by developments in the kitchen.
Head Chef Joe Howley has been working to reimagine a mainstay of Salt Yard's tapas menu – its stuffed courgette flowers. The result is a limited-edition Courgette Flower Power menu, which mirrors the structure of the restaurant's menu by offering fish, meat and vegetable variations.
Diners can choose from a rich Salt cod brandade filling accompanied by pickled clam and squid ink, a spicy 'Nduja option with citrus-laced courgette ribbons and mint, or the vegetarian option, Smoked burrata with pickled mushrooms and truffle. These specials are £7.50 each, or £21 for three. The original Monte Enebro goat's cheese and blossom honey
rendition remains and the Courgette Flower Power menu is available now until 25th November.
In keeping with the tradition of Mediterranean charcuterie bars, the drinks at Salt Yard are as important as the food. Each of the bar's five Signature cocktails possesses an element which has been hand-crafted by the team, whether it be the damson-infused gin in the Damson Yard (blended with grapefruit bitters and Acquavite di Albicocche sour) or the Alpine, which includes vermouth made at Salt Yard (with mountain pine liqueur and Los Danzantes mezcal). Of course, cava, sherry, Spanish-style G&Ts and thoughtfully selected wines are a mainstay on the list.
Salt Yard charcuterie bar and restaurant in Fitzrovia has unveiled its new-look downstairs dining room, accompanied by a limited-edition Courgette Flower Power tapas menu, which is available now until Sunday 25th November.