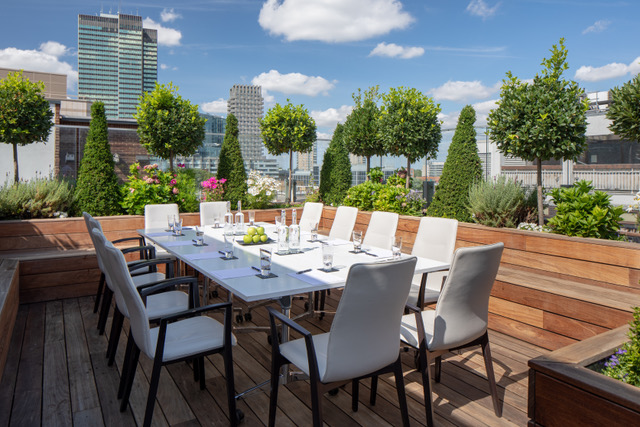 Get ready to bring out the shades at 30 Euston Square, as the award-winning, Grade II listed venue announces a range of new menus and experiences for the summer. Ahead of the summer party season, 30 Euston Square offers the perfect getaway with an al fresco experience right in the heart of London.  
With sustainability at the heart of the venue, 30 Euston Square team of chefs have created a variety of summer dining menus, utilising seasonal produce sourced from the British Isles. Menus include a new 'bowl food' menu, drawing inspiration on international flavours, with highlights of Tempura wasabi chicken with wilted bok choy and the Tandoori Celtic sea cod with black rice.  For large parties, new canapés include Pickled watermelon with whipped Ewes' milk cheese, and Peking Barbary duck. There will also be a selection of packages from inventive healthy breakfast dishes, to outdoor barbecue options and indulgent dinners in the classic Heritage Rooms.
Pledging to using only fresh and seasonal ingredients across all the menus, 30 Euston Square are also committed to ensuring all dishes compliment a well-balanced, healthy lifestyle. Using green leaf motifs on menus, healthier options will be marked to dishes which incorporate low-fat dairy, high fibre grains and lean meats. 30 Euston Square chefs use only rapeseed oil for cooking which is proven to reduce the use of saturated fats. 
Set in the heart of London, 30 Euston Square has a range of indoor facilities which include a choice of newly refurbished Heritage Rooms, a 300-seat Auditorium and Exhibition space with state-of-the-art technology, as well as 41 boutique bedrooms on site. 30 Euston Square's coveted rooftop terrace (6 to 300 guests capacity) is ready to accommodate a range of summer events. From meetings with a view, to receptions or private dinners, guests attending will be greeted with a "summer rooftop kit" packed with the essentials needed for a great evening in the sun.  
The Rum Experience 
Alongside the new dining menus, 30 Euston Square's team of mixologists is excited to introduce an immersive Rum Tasting Experience. Following last year's hugely popular Gin Experience, the new rum concept will give guests the opportunity to indulge in the finest rums, paired with a selection of flavoured tonics and aromatic botanicals. 
Priced from £12.50 per person, guests will get to sample a range of premium brands, such as The Kraken Spiced Black, Koko Kanu, Red Leg caramelised pineapple and the 12-year-old El Dorado Demerara. According to Global Data UK, sales of rum reached over £1bn in 2018, while gin sales surpassed £1bn in 2017, which suggest that although gin is the current popular drink in the UK, rum is not far behind.