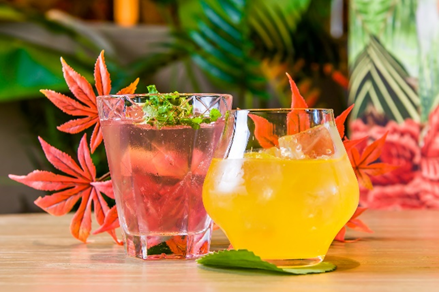 Rockwell, London's most centrally located cocktail bar and lounge, based on the edge of Trafalgar Square, is launching the Nootropical Garden, a mind-enhancing drinking and dining experience featuring natural and exotic nootropics. 
The Nootropical Garden is part of Rockwell's Curiosity Club, a series of unique and experiential events for inquisitive guests. It features a food and cocktail menu that uses natural herbs and ingredients to restore and stimulate the cognisance of guests.
There is Gotu Kola, which is highly regarded as a spiritual herb in Ayurvedic tradition and promotes mental alertness and a sound memory. Lemon Balm and Ashwagandha are known to ease stress, whilst Ginseng, Gingko Bilboa and Guarana have been selected for their ability to invigorate.
Drinking & Dining
The limited-edition food menu has been curated by Head Chef Sofiane Kaced, and will include two main courses and two desserts that all use a natural Nootropic. It features:
Mains
Ashwagandha

steamed Sea Bass with Seaweed,

Black Seed Oil

, Lime & Pomegranate Dressing

Gotu Kola

Hassleback Butternut Squash & Cauliflower Curry with

Lemon Balm
Desserts
Espresso

Chocolate Mousse,

Cacao

Hazelnut Sauce & Caramel Popcorn 

Mochi

Matcha

Tea &

Maca

Berry Syrup
Meanwhile the bar has curated a series of four special cocktails, two alcoholic and two non-alcoholic. The Nootropical ingredients provide the perfect alternative for those looking to avoid alcohol, offering natural energy enhancement without the intoxication through ingredients such as Gotu Kola and Ginseng. The alcoholic cocktails include stimulants like Guarana thought to reduce fatigue.
Guarana

Utopia (Mancino Bianco Ambrato, Amontillado Sherry, Citrus Juice, & Guarana' Soda)

Lemon Balm

Revival (Mancino Sakura, Lemon Balm homemade Syrup & Tonic Water)

Ginseng

Infusion (Ginseng powder, Cardamom pods, Lemon peel, Honey & Hot Water) –

Non-alcoholic

 

Eden of

Gotu Kola

(Gotu kola leaves, Seedlip Spice, Coconut oil, Fresh Lime, Ginger Beer, Chives & Pineapple Powder –

Non-alcoholic
The expert team produce all their own syrups, infusions and cordials in house and Rockwell is the only bar in London to source its botanicals from a sustainable underground farm, which grows its produce 33 meters below the streets of Clapham. 
The venue is inspired by its location on Spring Gardens, now a street in St. James's but once a garden space, formed, probably, in the reign of Queen Elizabeth as an addition to the pleasure grounds of Whitehall Palace. Rockwell captures this ethos by continuing to provide a sanctuary for guests to socialise and enjoy themselves. The interiors are also a nod to this heritage, transporting guests to a botanical inspired greenery. 
The design blurs the lines of the real and the imagined to create a sensory dream-like world. Exotic murals, capturing the strange and unfamiliar, combine with verdant ferns, large Longfolia Cabana trees and sumptuously upholstered banquettes to create an immersive décor unlike anything else in London.