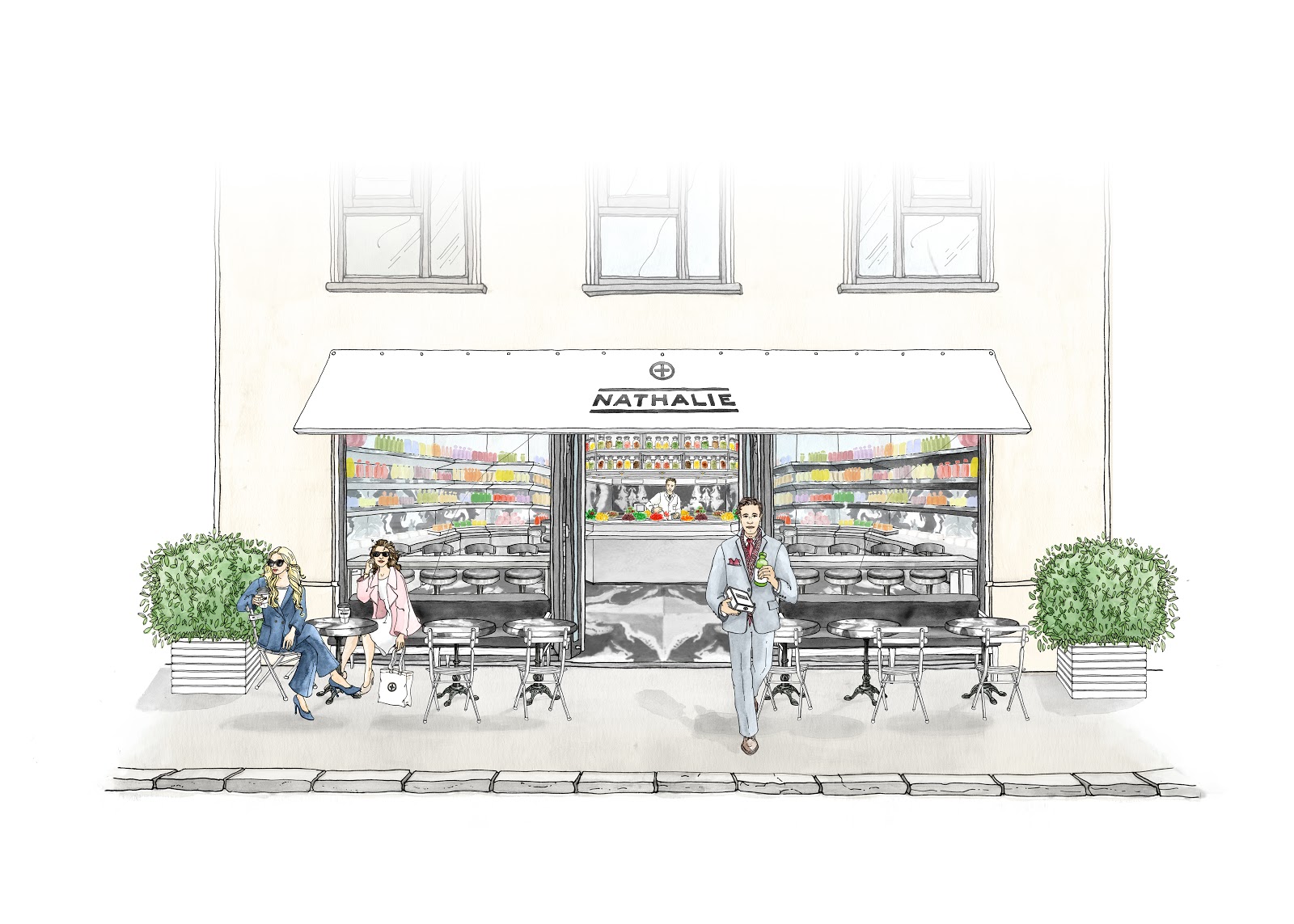 Restaurateur and designer, Juan Santa Cruz today announces his latest London venture 'Nathalie' – a revolutionary take-out spot in Hanover Square.
Changing the face of London's lunch scene, Juan – who with his company Santa Cruz is the mastermind behind the glamorous Casa Cruz in Notting Hill and elegant Mayfair restaurant, Isabel – will bring his unique flair to breakfast, lunch and dinner with an epic art-deco vibe.
If his stunning Santa Cruz Co. restaurants are the haute couture, Nathalie is the 'ready to wear' dynamic that's been missing for busy Londoners demanding healthy fuel on the go.
Inside very modern surrounds, including Dalmatia marble Juan personally sourced from Italy, customers will be able to pick up their sustainable 'Cruz box' made from compostable plant-based material (not plastic) either just by walking into the deli-style eatery or after ordering through their trailblazing custom order app.
"We've grown and experienced a lot of success with Casa Cruz and Isabel and I guess we've quickly established ourselves as the place to be for an intimate dinner in the capital. Nathalie is something I've wanted to do for a long time because when I worked on Wall Street I was always looking for a quick healthy lunch option I could take back to the office," said Juan.
"It's healthy, intelligent food and very good coffee for busy people, with an element of design in every aspect. Nathalie offers breakfast, lunch and dinner inside simple yet, beautiful interiors. With hundreds of variations of meals on offer, which can all be chosen through the app, so that our customers can simple grab and go without fuss," added Juan.
Launching late October, Nathalie will also enable customers to shop for stunning Santa Cruz lifestyle products. Chilean born Juan, who designs all the interiors for his venues, will for the first time be retailing some of the brand's favoured items – including salt and pepper grinders, stunning cutlery sets, napkins and oil-lamps.
"As well as somewhere to pick up lunch, Nathalie will facilitate the likes of a last minute dinner party spree, with wine, gifting items and high quality food all ready to go," said Juan.
Press juices will be available as well as beef, chicken and fish dishes inspired by Casa Cruz and Isabel. "People love what we offer in these restaurants but Nathalie is all about convenience. You don't have to dress up and it's there to service your every need." Juan added. "It's time for everybody to experience what's on offer from us."