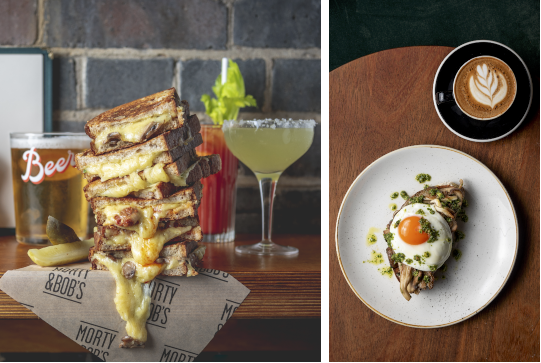 Morty & Bob's have opened their new site in the buzzing Coal Drops Yard in King's Cross. After the overwhelming success of their first restaurant in east London, the team have moved to King's Cross' shiny new restaurant and retail development. Different postcode, but the same well-loved British food that put Morty & Bob's first on the map, the all-day dining spot has three power moves: epic cheese toasties, inventive small plates, and a global wine list.
Fondly named after owner Charlie Phillips two grandpas, Morty & Bob's is a sunrise to sunset restaurant where coffee in the morning turns to Espresso Martinis in the evening. With seasonality and local produce at its heart, Morty & Bob's specialises in elevating the humble cheese toastie into a joyous, gourmet experience.
The open plan space, just off Granary Square is distinctively modern with rustic touches. Much like the Hackney outpost, industrial brick walls, low lighting and potted plants provide the decor, while the central bar is a hive of activity, comfortably seating a handful of drinkers and diners.
The site heralds a new era for Morty & Bob's; as well as sticking to their brunch classics which earned them a legion of fans, the team have also upgraded their evening offering, knocking up a number of small plates, bar snacks as well as serving crafted cocktails, wines and beers.
Open from the first coffee to the last cocktail, the fast, casual restaurant bang out a number of early morning bites, such as: wild mushrooms on toast with rocket, hazelnut pesto and spiced fried egg; avocado, smoked streaky bacon, fried egg and mushroom ketchup stuffed into a brioche bun; and avocado, chilli and lime on sourdough with kale crisps and radish.
The hot sandwich mavericks turn their cheese toasties into an edible art form. Each lovingly made with doorstop thick bread and stuffed with layers upon layers of molten, oozy cheese, the British favourite is available with mixed onions; roast mushrooms and truffle; or nduja salami. Coffee is sourced from AllPress coffee, with the beans roasted down the road in Dalston. Plant-based milks are available for the vegan crowd along with refreshing cold pressed juices.
When daylight fades, Morty & Bob's switches up the vibe for evening diners. The restaurant-cum-bar is a perfect place for pre-dinner cocktails, a quick bite, or a laid-back dinner. Snacks include: parmesan truffle fries; burrata; avocado and chill soldiers; and Marcona almonds. For more substantial plates, guests can choose from a number of options like the chicken bun with pickled cucumber and aioli; minute rib eye steak, house hash brown and fried egg; and kale, buckwheat, avocado and roast squash bowl with tahini dressing and zatar. For the last delicious hurrah, the concise dessert menu features: warm brownie with ice cream; Affogato; and upside down berry cheesecake.
Not just a place to grab coffee and a toastie, the new site has evolved into a destination drinking den where guests can sample a number of alcoholic libations. The 'London Suppliers' bar offers guests a varied list of beers brewed in the capital featuring Two Tribes, a neighbouring brewery located on Caledonian Road, and the ever-popular Camden Town Brewery.
Playful cocktails pay homage to the Big Smoke, and include: Espresso Martini with Black Cow Vodka, made from Whey from Dorset Milk: Long Acre Iced Tea, a twist on the classic Long Island Iced tea, the punchy but well balanced drink is made from the full range of East London Liquor Company (Gin, Rum and Vodka); and Old Street Rum Fashioned, made with Demerera Sugar Rum from British Guyana and bottled in Hackney at East London Liquor Company.
The wine list is another draw to Morty & Bob's. The team have selected wines that best showcase the best of British grapes, like the Champagne-esque Cottonworth Classic Cuvee from Hampshire along with New Hall Pinot Gris, a lovely slightly sweet, dangerously drinkable white wine from Essex.
Morty & Bob's have come along away from their east London beginnings. A grown-up version of their first bricks and mortar site, the Coal Drops Yard branch boasts the finest British produce, a stellar line up of London-based beers and drinks, a knowledgeable and friendly team, and the best cheese toasties in the business.