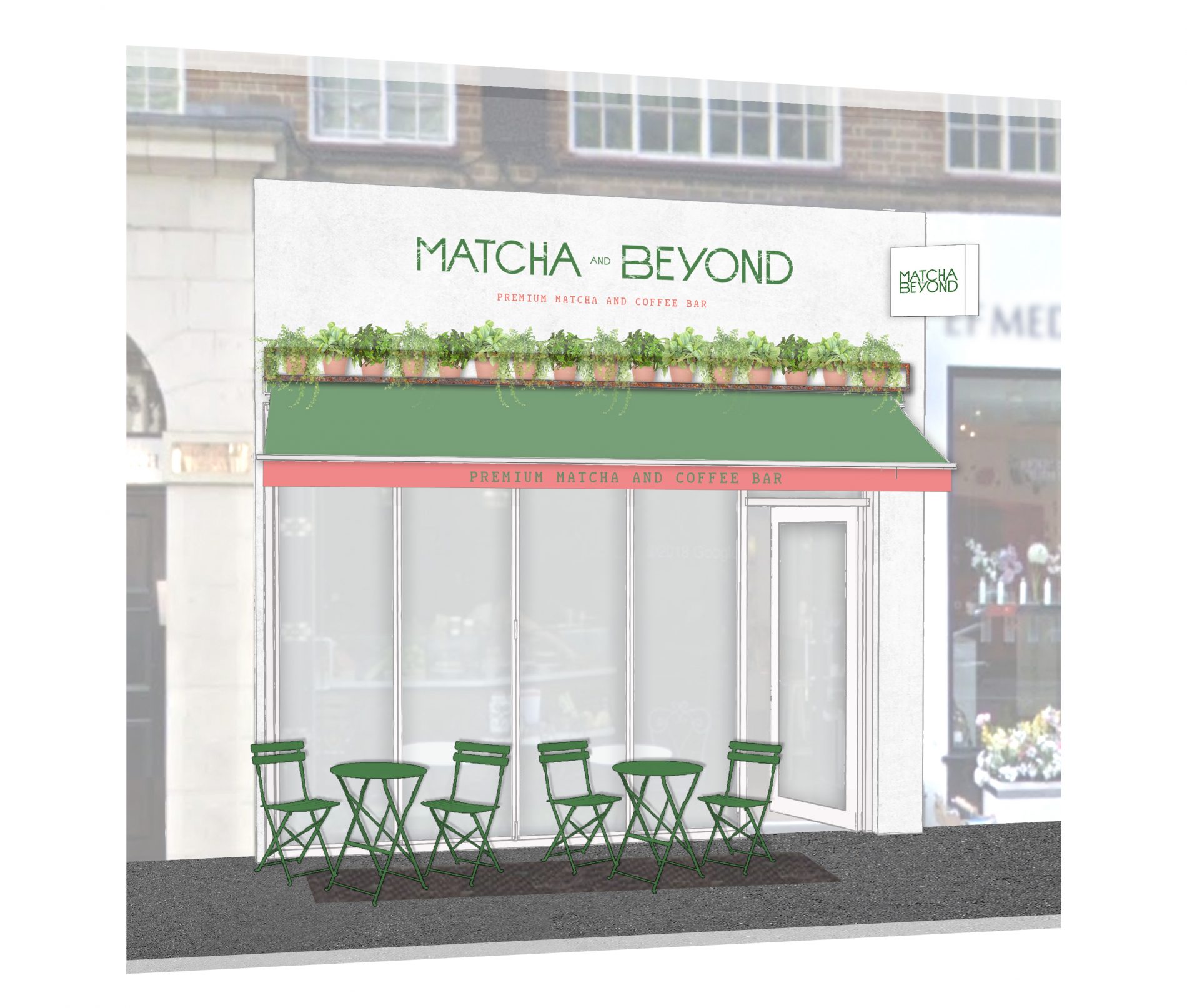 MATCHA AND BEYOND is a concept created by Olivia Nottin, a nutritional therapist and a French certified Natural Chef, that will be an alternative to the high street coffee shop chains, offering premium quality Matcha beverages, Matcha treats, as well as speciality coffee, infusions and healthy bites with high quality ingredients.
The café will offer a welcoming and soothing interior of clean lines, earthy neutrals, with a splash of bright colour, natural wood, soft furnishing and plants. The seated area is a welcoming spot for mothers and babies, the perfect pit-stop for shoppers, as well as a relaxed place for those in between meetings and looking to refuel. There is also a private space, which will be available to book for larger groups and get-togethers and it will also be used to host special events throughout the year.
MATCHA AND BEYOND will offer the very best Japanese Matcha, coming from the Uji region in the southern outskirts of Kyoto. The matcha-based drinks will reflect a traditional coffee menu, where customers can order their favourite Matcha drink in the same they would coffee: as a shot with added water and a variety of milk-based drinks, cortado, flat green Matchachino, and the obvious latte.
In Japan, the home of matcha, it is tradition to eat a small sweet treat just before enjoying a bowl of matcha tea. To respect this tradition, some sweet treats with a modern twist will be offered on the menu, alongside nutritionally balanced snacks and breakfast pots. Sweet and savoury baked goods will be made daily on site. The menu will reflect MATCHA AND BEYOND's ethos and offer signature  matcha treats, coffee shop favourites, gluten free, dairy free and vegan options.
For healthy breakfast, customers can choose either a bowl of warming porridge, Coconut yoghurt, Greek yoghurt or stewed apple and customise with granola, antioxidant mix, seasonal fruits and sprinkle some Matcha, coconut flakes, chia seeds or bee pollen. For lunch there will be healthy salad bowls: Earth Bowl with green lentils, courgettes, parsley and shaved pink radishes; Kale Greek with kale, olives, crumbled feta, cherry tomatoes and pickled red onions – with additions of salmon, turkey or halloumi.
With very few quality authentic matcha bars in London, MATCHA AND BEYOND is set to become the hottest new opening this autumn – Come on, meet your matcha!