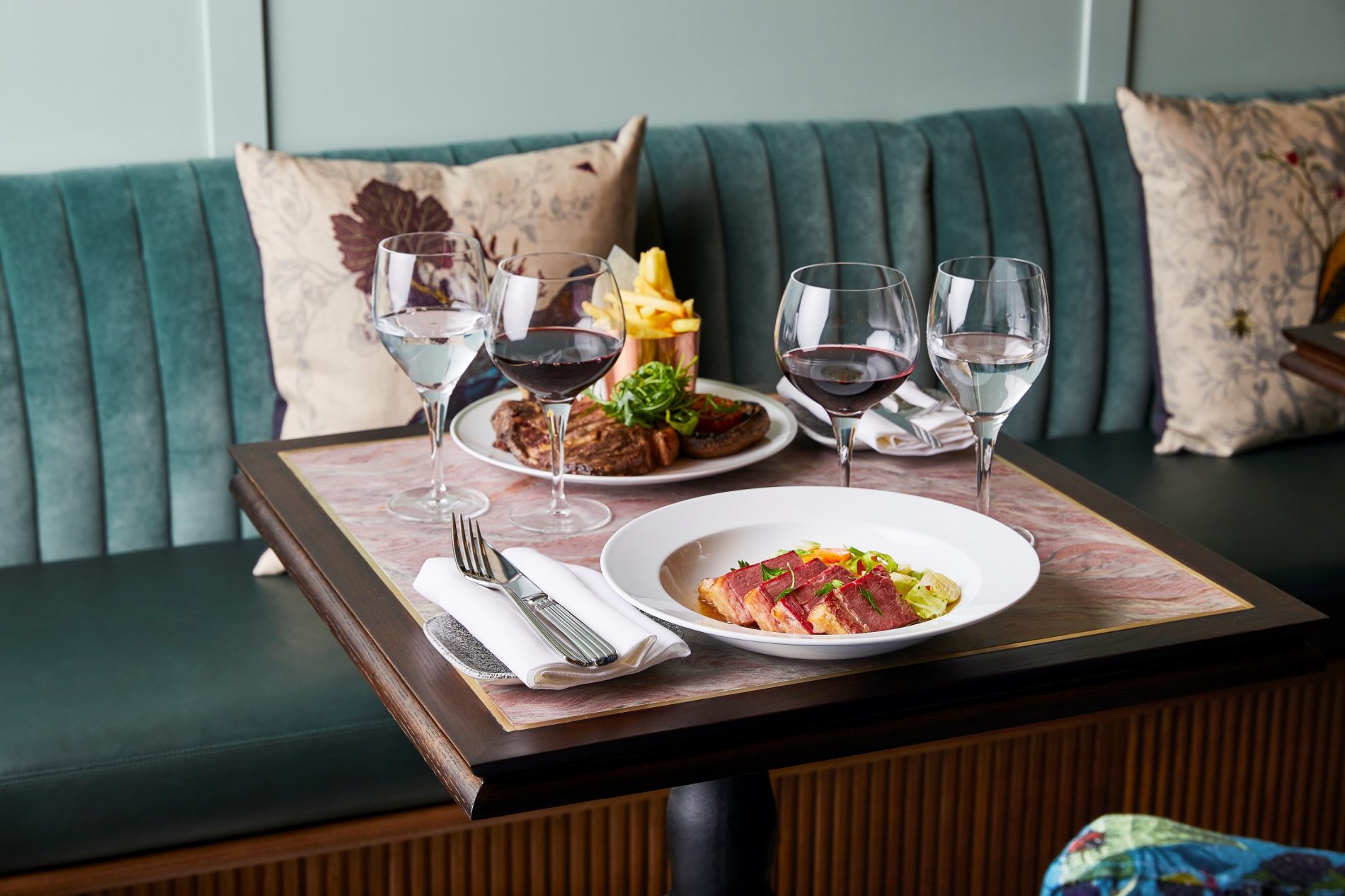 Tish, an upcoming contemporary kosher restaurant and bar, offering an all-day menu of European cuisine, will open its doors on Sunday, the 29th of July in the heart of Belsize Park, London. Open from 7am to 12.30am and with a capacity of 160 covers, a beautiful dining room, a bar and a stunning alfresco terrace, Tish will become the ideal spot for summer dining.
The tone of the splendid dining room is set by the soaring 15-foot ceiling, mint green wood panelled walls, and a cream and green checkerboard terrazzo flooring. Four grand brass chandeliers grace the room and the gorgeous bar features an extraordinary Brazilian quartzite top, hand-selected in Verona, Italy. The open kitchen will showcase the team of chefs at work under a dramatic giant copper canopy. The dining room opens out onto the large outdoor terrace complete with playful patterned seating, merrily hued parasols and all manner of heaters and weather proofing.
The breakfast menu includes Challah French toast with pear compote and maple syrup or fresh fruits; Pomegranate and citrus fruit salad with mint and Acacia honey; Crepes served with fruit compote, fresh fruit and pouring chocolate sauce; Eggs cooked to order and Delicacies from the bakery.
The lunch and dinner menu features modern classics and seasonal new dishes alongside Jewish heritage favourites, such as Tish Hungarian bean soup; Chicken soup with kneidlach; Dry-aged rib eye steak with truffle chips and field mushrooms; Crispy duck leg with red cabbage and cranberry jus; Seared salmon fillet with green kale salsa, pickled fennel, crispy pearl barley and pomegranate and Tish Chicken schnitzel with roasted fingerling potatoes, peppers and caper berries. Moreover, the menu also has a wide selection of fresh salads and sandwiches.
Tish's extensive drinks list offers many wonderful wines not previously available in the UK, alongside an innovative cocktail menu. Guests can also enjoy excellent coffee and a wide range of fruit juices squeezed to order. A variety of cakes and delicious small plates can be ordered alongside drinks. A children's menu will also be available, as well as a desserts menu.
Photo Credit: Tim Atkins