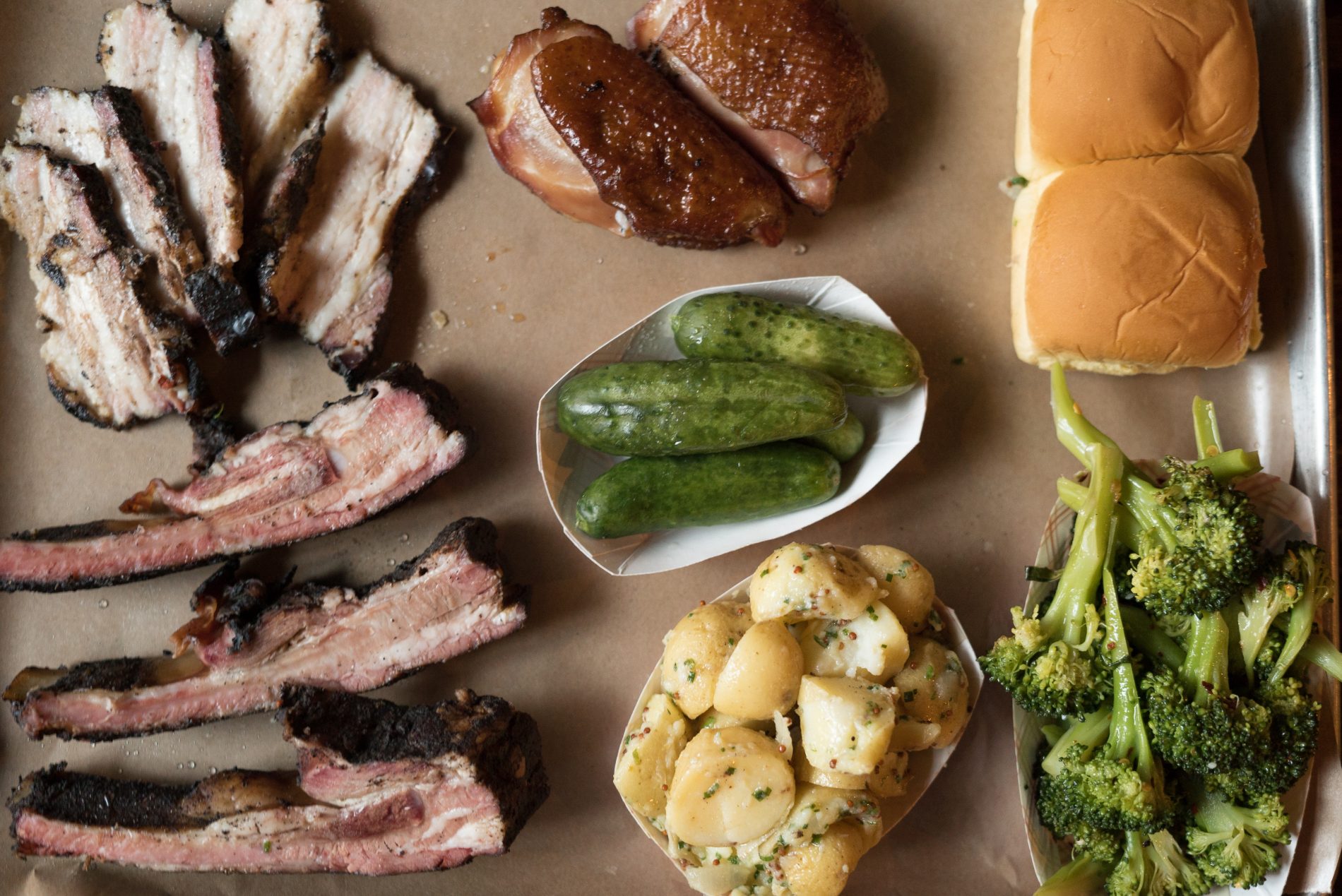 Londoners should get ready for an unrivalled meat-feasting weekend, from Friday the 13th of July until Sunday the 15th of July at Hackney's indoor modern marketplace – Mare Street Market. Together with beer pioneers Brooklyn Brewery and Brooklyn's culinary movement Fette Sau, they will be launching 'Brooklyn BBQ' – a free, first come, first served event.
Fette Sau's founder Joe Carroll is collaborating with Mare Street Market's Creative Food Director Gizzi Erskine to create an exclusive menu. The Fette Sau x Mare Street Market 9-piece menu will see recipes from New York BBQ combined with Mare Street's 'Farmed and Fired' style of cooking, with a focus on local East London produce.
Fette Sau merges the style of Central Texas barbeque with the concept of a New York Deli and has been serving up hearty feasts to meat lovers for 11 years. The 'Brooklyn BBQ' menu will feature Fette Sau's beloved slow-smoked Beef Brisket, Pork Ribs coated with homemade dry rub blend and the smoked meat-flavoured Burnt End Baked Beans. Mare Street Market's take on the summer BBQ includes House Beef and Pork Sausage Links, chilli and apricot BBQ Sauce, and a Dry Meat Rub infused with dark roast coffee from the Market's own Flying Horse Coffee which can be bought from the Deli and taken home.
Guests can wash down all the meat with a selection of Brooklyn Brewery beers, including the classic Brooklyn Lager, Summer Ale, Scorcher IPA and Sorachi Ace.
The pop-up, serving up a Brooklyn-inspired menu along with Brooklyn Brewery beers, will kick off Brooklyn Brewery's summer BBQ residency in the new outdoor Terrace at Mare Street Market which is open all week. The event will start on Friday the 13th, at 6pm.