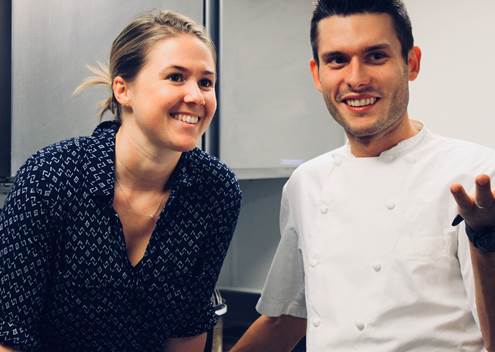 Emily Roux has teamed up with her husband Chef Diego Ferrari, the head chef at Le Gavroche, to open their first restaurant together in October in Notting Hill – Caractère. The restaurant name is a play on both chefs' unique and strong characters, as well as their family influences and their cooking and eating experiences, which will be reflected in both the menu and the décor.
"We are incredibly excited about opening our first restaurant together. Caractère is the manifestation of everything we love, and we cannot wait to share it," said Diego Ferrari.
The food served at Caractère will focus on simple and delicious French and Italian dishes from both owners' heritage. Each season the menu will change and diners will have the opportunity to choose from the daily specials.The wine list will offer both French and Italian wines, and will predominantly feature smaller winemakers.
"My background and my training is of course Classic French fine dining, but I've always been so in love with Italian food. Then I found love with Italian-born Diego when we were both working in Monaco at Alain Ducasse's three Michelin starred restaurant, Le Louis XV. Since we've been together, he has taught me so much about Italian food. Our new restaurant brings together our story, and our menu will always be a reflection of the food we love to cook and love to eat," said Emily Roux.