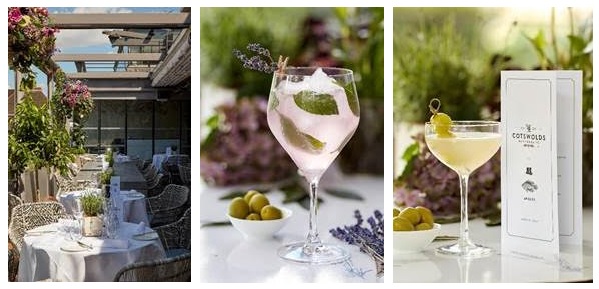 Angler's rooftop terrace has launched, in collaboration with artisanal spirits brand The Cotswolds Distillery, a picturesque summer bar. Part of D&D London's wider Blossom City campaign, the quintessentially British terrace aims to bring Cotswold country charm to the city, offering refreshing and floral cocktails alongside hanging baskets overflowing with summer flowers.
Angler will welcome the botanicals of an English summer with a limited edition menu, created together with The Cotswolds Distillery. The cocktail list (all priced at £12) includes six strong cocktails such as The Cotswold G&T, Cotswolds gin, fig syrup, basil, lime, Mediterranean tonic, The Hedgerow Martini, Cotswolds gin, St. Germain elderflower liqueur, fresh lemon juice, lemongrass syrup and the Beebrush Gimlet, Cotswolds gin, lime, lemon verbena syrup, cucumber.
A bespoke menu of Michelin-starred herbal bar snacks, designed to pair perfectly with the refreshing cocktails, was curated by Angler's Executive Chef, Gary Foulkes. The menu includes Grilled flatbread, lemon verbena pesto, garden herb cream (£10.50), Wild garlic, Ragstone arancini (£8.00) or Crispy Cornish seafood, lovage and lemon mayonnaise (£12.50). Smaller snacks to nibble on will also be available, such as Pistou nuts (£4.50) and Giarraffa green olives (£4.50).
The 7th floor terrace will be dressed in fragrant flowers and foliage, which will match the flavoursome cocktails and bring an English country garden to London. Cotswolds gin and the floral-inspired terrace at Angler will create the perfect haven for city-dwellers to escape to the country all summer long.
D&D London's Michelin-starred seafood restaurant is located on the top floor of the South Place Hotel, an 80-bedroom, luxury hotel located between Moorgate and Liverpool Street stations. A restaurant, bar and semi-private dining room, Angler also incorporates a west-facing dining terrace with a retractable roof. Executive Chef Gary Foulkes has worked in some of the UK's most highly-acclaimed establishments, including The Vineyard at Stockcross, William Drabble's Aubergine and most recently The Square in Mayfair, where he was Head Chef for two years.