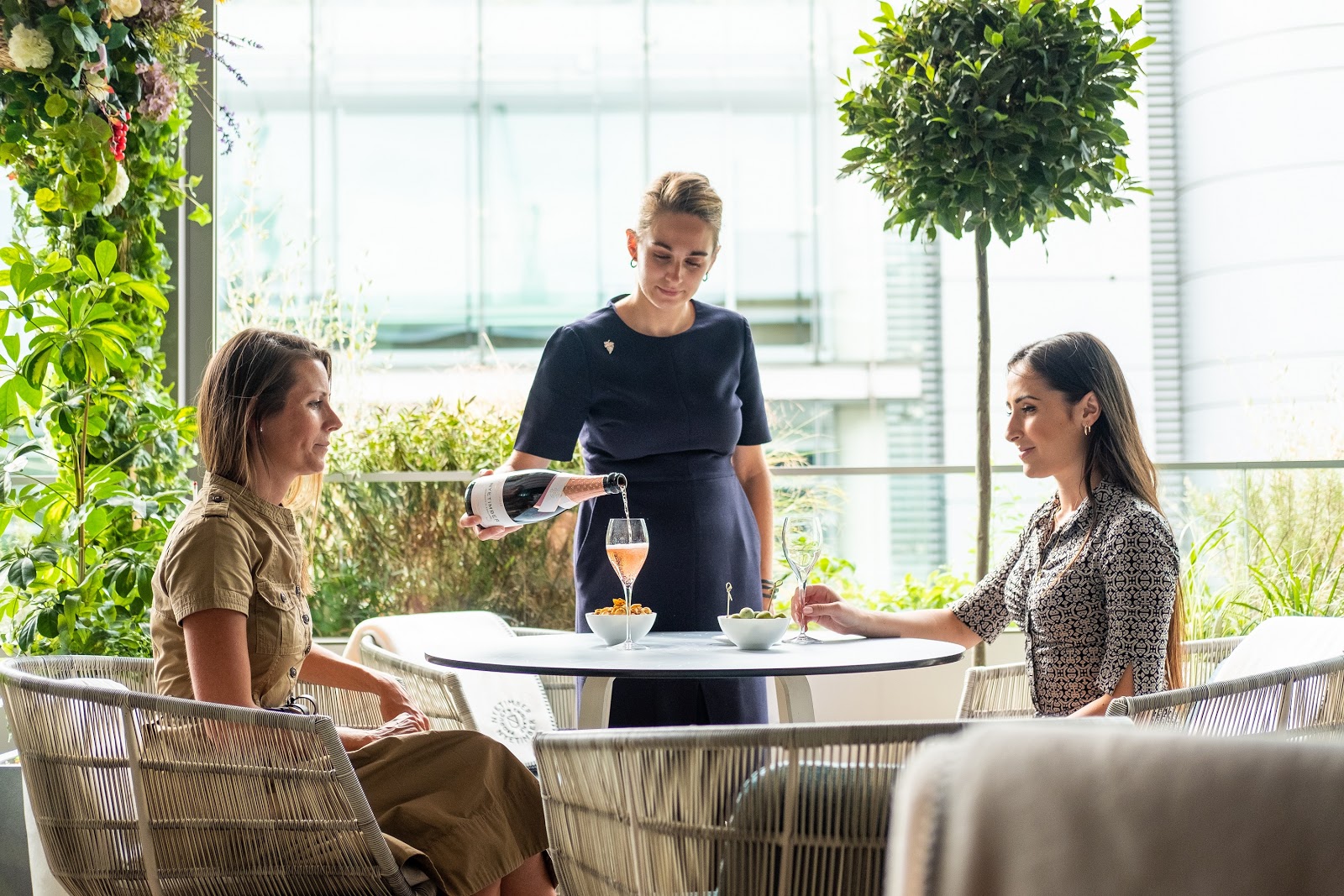 Angler, the Michelin-starred seafood restaurant, is launching its summer bar in partnership with award-winning pioneers in English sparkling wine, Nyetimber. The terrace is located on the restaurant's seventh story terrace and decorated with vibrant summer florals, bringing the summer feeling to the heart of the city until mid-September.
Four Nyetimber wines will be featured on the exclusive terrace menu, including Blanc de Blancs and Rosé MV. Two bespoke cocktails are also available – the Royal T with St Germain, crushed strawberry, lemon, basil and Nyetimber; and the Dream On with Nyetimber, Tarquin's gin, creme de violette, maraschino liqueur and lemon.
A menu of Michelin-starred bar snacks has been curated by Angler's Executive Chef, Gary Foulkes, who perfectly paired then with the Nyetimber serves. The menu includes Iberian ham croquettes, black truffle cream (£8), Taleggio, preserved tomato and basil flatbread, herb pesto (£10), and Crispy Cornish squid, green peppercorn and ginger (£10). Smaller snacks to nibble on are also available, such as Pistou nuts (£4.50) and Giarraffa Sicilian olives (£4.50).
Groups of six guests or more have the opportunity to enjoy a 'Nyetimber Tasting on the Angler Terrace' for £35 per person, which includes four tasting glasses of Nyetimber with a selection of sharing bites.
D&D London's Michelin-starred seafood restaurant is located on the top floor of the South Place Hotel, an 80-bedroom, luxury hotel located between Moorgate and Liverpool Street stations. A restaurant, bar and semi-private dining room, Angler also incorporates a west-facing dining terrace with a retractable roof.
A true pioneer, Nyetimber was the first producer of English sparkling wine to exclusively grow the three celebrated grape varieties: Pinot Noir, Pinot Meunier and Chardonnay. Nyetimber is made from one hundred percent estate-grown grapes and is regarded as England's finest sparkling wine.Owner and Chief Executive Eric Heerema and winemaker Cherie Spriggs are committed to producing wines of exceptional quality.