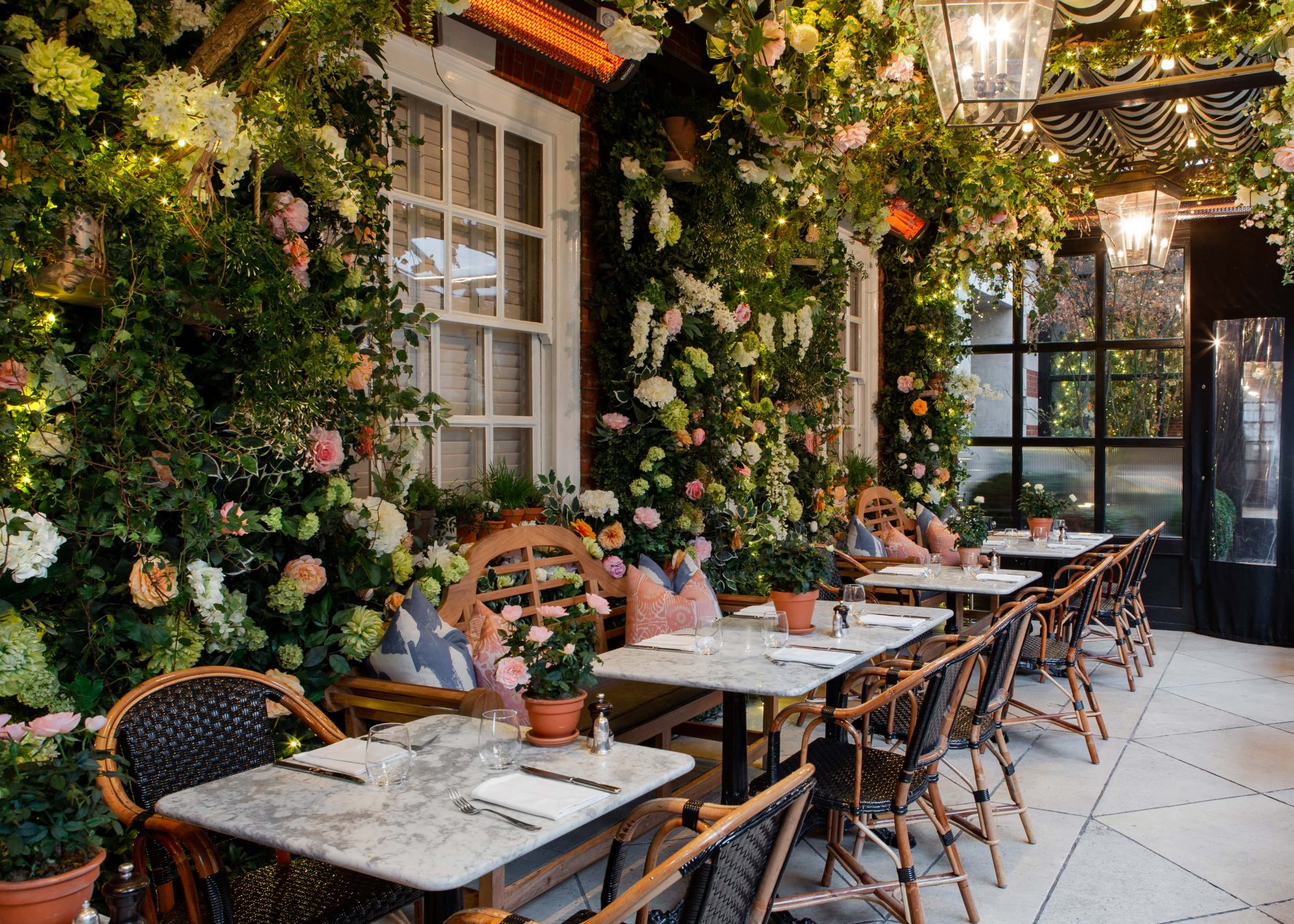 The arrival of spring, lengthening of days and warmer weather, means it's time for Dalloway Terrace to sport a new outfit. Just in time for the sunshine that the new season brings, the renowned Bloomsbury restaurant has once again been transformed, this time into a whimsical overgrown greenhouse. 
The idyllic transformation will transport guests to the stunning surroundings of a quintessentially English garden complete with an abundance of cascading roses, sweet peas and tulips entwined around terracotta pots. Also laced throughout the restaurant will be a selection of herbs filling the terrace with fragrant notes of Lavender, Rosemary, Thyme and Mint. 
Hotly anticipated and courtesy of master florist McQueens Flowers, the 'Dalloway Spring Greenhouse' will evoke the sights of Virginia Woolf's tranquil garden at her 16th-century Sussex retreat, 'Monk's House'. The garden played a very important part in Woolf's life and provided a 
source of both inspiration and tranquillity. Virginia wrote most of her major novels in a wooden writing lodge tucked in the corner of the orchard in her garden. 
Alongside the enchanted floral display – Dalloway will be complete with an exclusive list of botanical cocktails (priced at £14 each ) inspired by the flowers of an English country garden. Highlights of the new cocktail list include the Sweet Pea, created with Seedlip Garden 108, Bitter Orange and Elderflower, Daffodil, a refreshing mix of Belsazar Rose Vermouth, Crème de Pêche, Muyu Jasmine Verte and Jasmine Saicho Cold Brew Tea. Also available will be the Bluebell consisting of Ciroc Vodka, Supusawa, Muyu Chinoto Verde, Italicus and Soda Water and the Garden Rose, combining Villa Ascenti Gin, Manzana Verde, Mint & Lime Cordial with LE Rhubarb & Cardamom Soda 
The Bloomsbury hotspot brings its seasonal transformation full circle, complete with Spring dishes including Welsh Spring Lamb Cutlets, served with Charred Courgettes, Aubergines and Salsa Verde (£32), Primavera Tart of Peas, Asparagus, Broad Bean and Baby Leaf Salad (£10.50) and Heritage Beet Salad, Baby Watercress, Rocket, Dorstone Cheese, Orange with Toasted Hazelnuts (£12). Also available will be an Afternoon Tea, with the sweets taking inspiration from British favourites. Highlights of the tea (£40 per person) include Blueberry and Violet Cupcakes, an English Strawberry Tartlet and Raspberry and Pistachio Opera Cake. The savoury offering includes Spring Lamb and Mint Sliders, Marinated Cucumber on White Bread, Cheddar Cheese with Onion Chutney on Multigrain Bread and Smoked Halibut on Guinness Bread. 
Spring at Dalloway is complete with delightful touches such as seasonal seeds for guests to take home allowing them to create their own slice of Dalloway Terrace. Also available will be floral lollipops that have delicate edible flowers set within them. 
Named after the eponymous character penned by Virginia Woolf, an author whose name will forever be associated with Bloomsbury, Dalloway Terrace is an elegant, poetic and quintessentially English space. Set in the heart of the historic and vibrant Bloomsbury, London's literary centre, the beautiful indoor-outdoor space provides the perfect spot to soak in the new season.