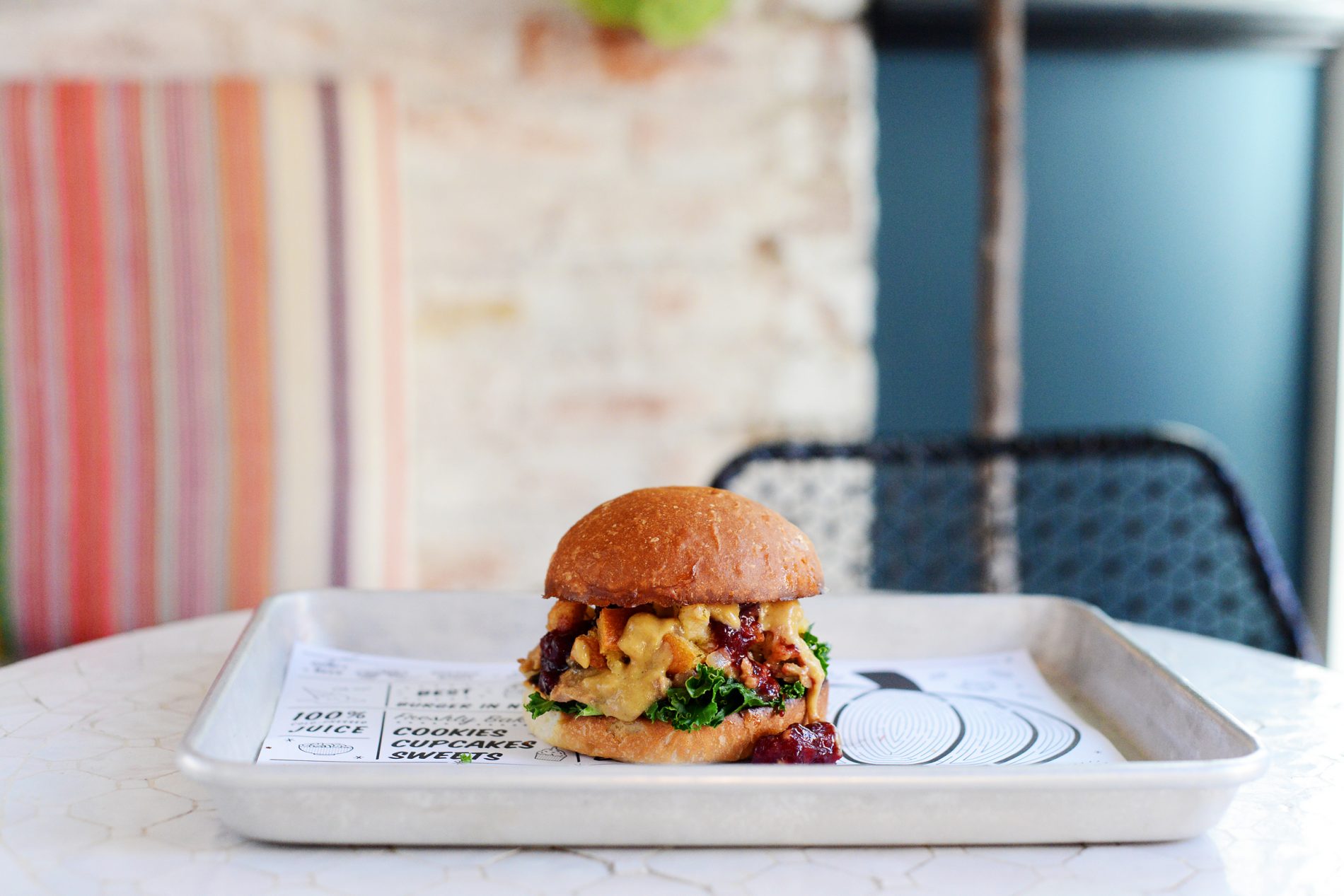 Vegan hangout by CHLOE. is celebrating Thanksgiving in London with the indulgent 'Gobble Gobble' burger. Guests are invited to experience all the classic flavours of the American Thanksgiving holiday with this celebration dish made with lemon-caper seitan, sautéed kale, rosemary gravy, harvest stuffing and fresh cranberry sauce all packed into a potato bun.
The Gobble Gobble is priced at £10.95 and will be available for the whole of November. As the holiday coincides with Vegan Month $1 from each sale of the Gobble Gobble will be donated to All Dogs Matter, a London-based charity, specialising in rescuing and rehoming dogs of all ages.
by CHLOE. are well known for welcoming pups with their owners offering vegan doggie treats that include the popular Pupcakes and Peanut Butter Bones.  On choosing to partner with All Dogs Matter, Samantha Wasser, co-founder comments "I have 2 dogs, Jet and Bowie, and consider them my furry babies. We are really excited to partner with All Dogs Matter. The work that they do is amazing, and we at by CHLOE. are grateful for the opportunity to give back to such a great local cause."
by CHLOE. is a fast-casual brand that opened its flagship location in the heart of the West Village in New York City in July 2015.  The plant-based restaurant aims to offer delicious, wholesome, plant-based foods that fuel and energize without compromising flavor, taste or satisfaction. Since opening in 2015, by CHLOE. has grown to 13 locations internationally including New York City, Boston, MA, Providence, RI, and Silverlake, California, in partnership with 365 by Whole Foods Market, and London, UK. In September 2016, by CHLOE. opened Sweets by CHLOE., an original bakery next to the flagship location in NYC's West Village followed by its second bakery location in NYC's Seaport District in Fall 2018.  This fall, by CHLOE. will open an additional location in London.