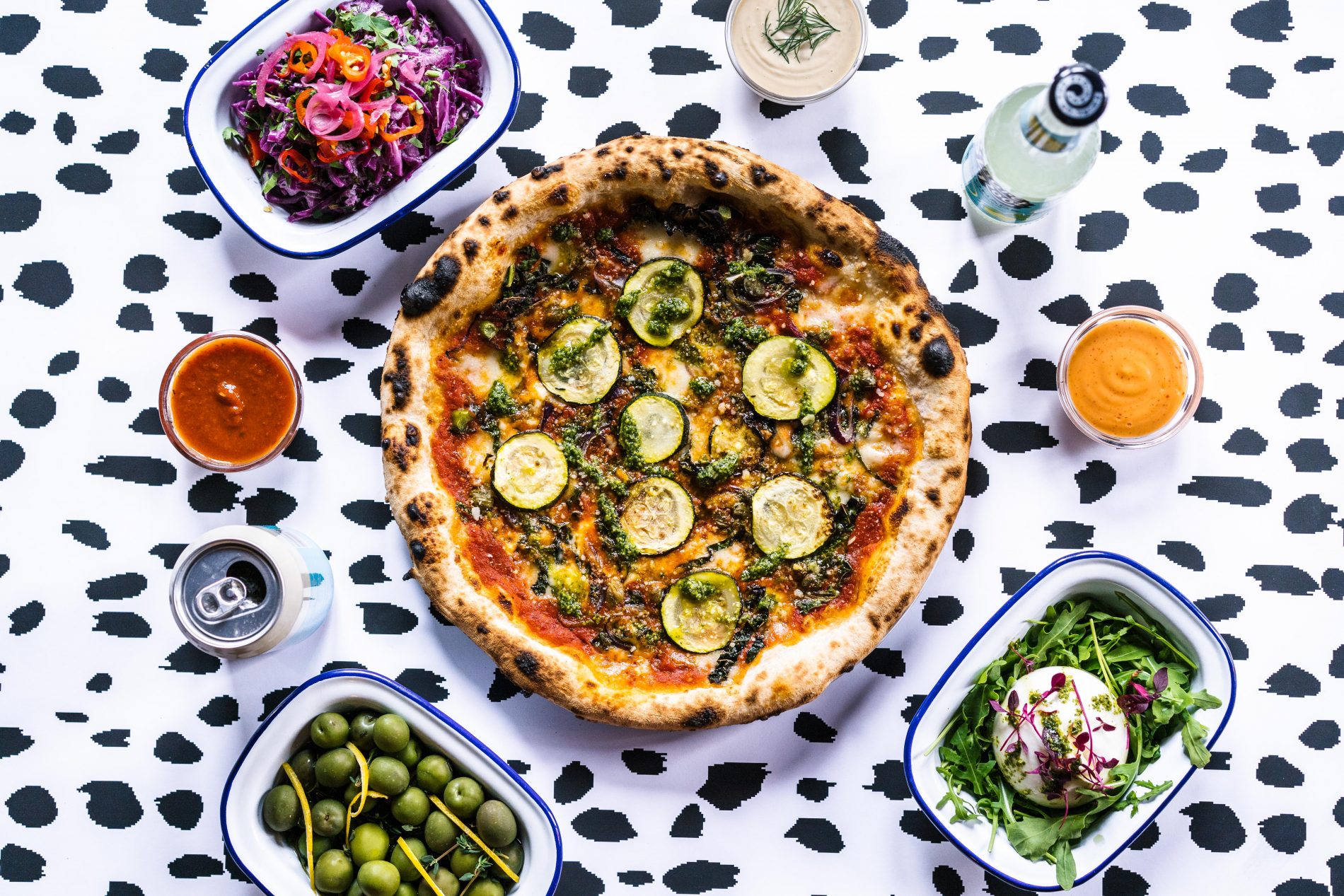 ACE's pizza dough is cold-fermented for 48 hours using a traditional biga starter to keep the base light and crisp. Combined with top-quality fresh ingredients including British mozzarella from Kentish cows, local vegan cheese from Black Arts Vegan and ACE's house-made plant-based toppings, these are arguably the best pizzas in Hackney.
Among the pizzas on the menu are the 'Honey Pie', with spicy salami, fior di latte, fennel seeds, habanero-infused honey, guindilla chillies and pecorino; the 'Papa Jones', a vegetarian spin on a takeaway favourite with house-made vegan fennel sausage, spicy marinara, bell peppers, red onion, mozzarella, Italian herbs and garlic sauce; and the 'Ndon'tya', a vegan pizza with house-made fiery plant-based 'nduja, Black Arts vegan mozzarella, tenderstem broccoli, rosemary and a sesame crust.
For the perfect takeaway treat, ACE PIZZA is great when paired with the full range of Five Points beer now available via the Five Points On Tap app or takeaway from The Pembury Tavern​. This includes two-pint draught bottles of the brewery's Pale, JUPA, XPA and Pils beers.
ACE PIZZA is headed up by Executive Chef and Co-Founder Rachel Jones, formerly of Italian-American street food company, Capish. Rachel comments: "Since launching at the Pembury Tavern with Five Points, we've worked really hard to refine the menu. We've tried and tested lots of different ideas and are now really happy with our product.
With the pub being closed to the public during lockdown, there was a real catalyst for relaunching with a focus on takeaway. Coronavirus didn't just force us to think on our feet and pivot our service to try and keep reaching our regulars, it actually gave us the time to start thinking about what ACE PIZZA would look like as a brand in its own right.
We've always been here to serve the local community in Hackney, and it felt frustrating that we couldn't do that for a few months. But with the Five Points On Tap delivery app now live and the kitchen back open, we've been able to develop a way to serve beer and pizza to our locals again!"
ACE PIZZA opens for business on Wednesday 24th June and will be available via delivery and takeaway from newly launched Five Points On Tap app. For more information, please visit www.thisisacepizza.com/.