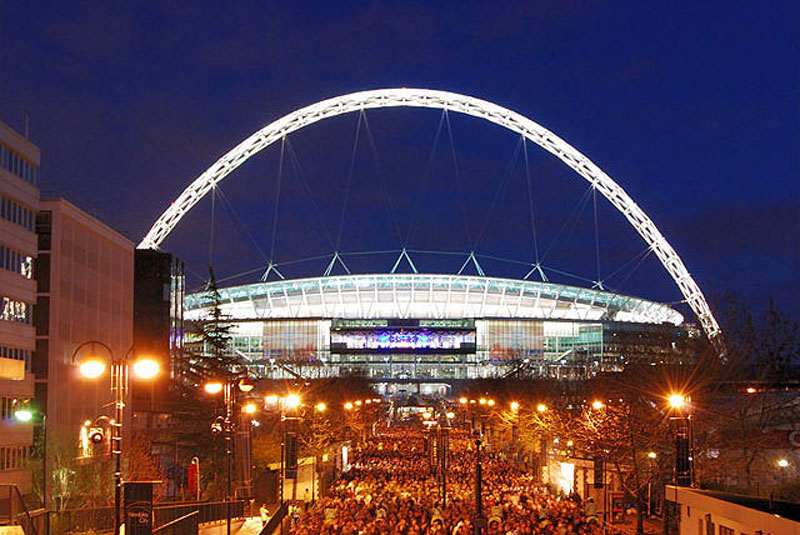 Wembley does hospitality better than any other outdoor venue in the UK and the national stadium is set for a big 2017 with some huge sporting events set to be staged in the capital next year.
Here's a look at what you can book for a day out or hospitality at Wembley in 2017, which could be ideal for a Christmas gift or if you want to treat yourself to some top class sport watched in the best possible way.
Anthony Joshua vs Wladamir Klitschko
IBF world heavyweight champion Anthony Joshua recently defended his title against American Eric Molina and following his victory in Manchester, an announcement was made to the audience that the former Olympic gold medallist will be facing one of the all-time greats of the heavyweight division at Wembley in April.

"Wembley Stadium Zipwire" (CC BY-ND 2.0) by (Mick Baker)rooster
This will be the second boxing event staged at the new Wembley as Carl Froch's fight with George Groves in May, 2014 attracted a crowd of 80,000. With this set to be Joshua's toughest test of his professional career to date, it is sure to be a sell-out once again. If you are looking to attend, there will be no better way of doing so than with a hospitality package. This can include ringside seats so you are right on top of the action and food and drink on the night.
FA Cup final
The FA Cup final is still the highlight on many people's football calendar. In 2017 the final will held on May 27 and it will mark the end of the 136th edition of the world famous tournament. Even if you are not a fan of one of two clubs involved, it is still a great day.
Manchester United are the defending champions after they defeated Crystal Palace in the final earlier this year in what was the 12th time the club had won the cup.
Chelsea are the 5/1 favourites in the latest football betting odds to win the tournament this season as Antonio Conte's side have proved hard to beat so far in the campaign since the Italian took over in the summer.
Two NFL games
The NFL have announced that there will be four regular season games in the UK in 2017 and two of those will be at Wembley. Jacksonville Jaguars will play their home tie against Baltimore Ravens and Miami Dolphins will be the designated hosts at Wembley when they face New Orleans Saints.

"Saints on offense" (CC BY-SA 2.0) by skiff24601
Even if you are not a big American football fan, Wembley always puts on a great show for these games. There is pre-match entertainment, a tailgate party outside the stadium beforehand and there is sure to be a great atmosphere.
A hospitality package for one of these NFL games can really make your day special. You can choose to be seated in the comfort of a Club Wembley seat; these seats will ensure you will have a fantastic view of the game. There are also packages which include food, including all of the American favourites such as cheese burgers, macaroni cheese and hot dogs.
If you are lucky enough to be going to Wembley next year for one of these sporting events, it will be sure to be a day to remember