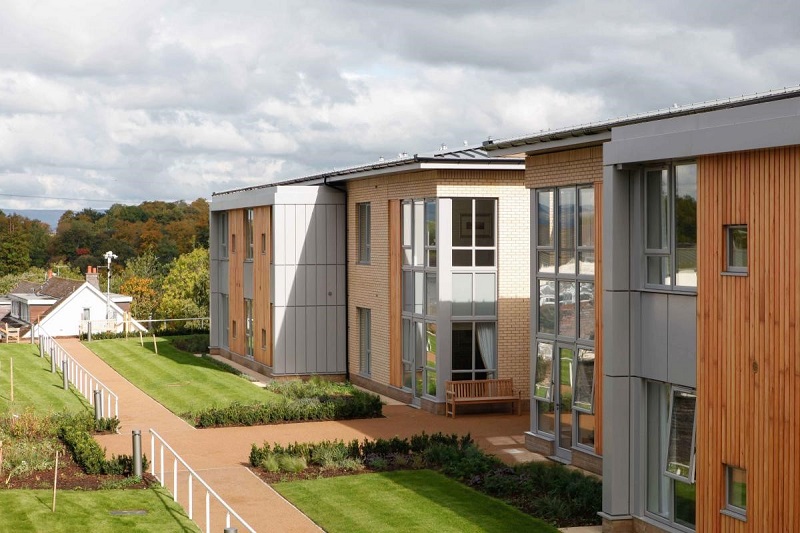 Two brand new services in the West of Scotland for blind and partially sighted people are now open.
Scotland's largest vision impairment charity, Royal Blind, has constructed Jenny's Well, a specialist 54-bedroom residential care home for visually impaired older people in Hawkhead Road, Paisley.
Its sister charity, Scottish War Blinded, has built the Hawkhead Centre, a state-of- the-art activity centre for veterans of the armed forces with sight loss on the same site. Scottish War Blinded supports veterans regardless of how and when their vision impairment happened.
The £17m project has created around 150 new jobs in Paisley. Nearly 100 military veterans have already signed up to use the Hawkhead Centre and 11 residents of Jenny's Well will begin moving into their new home from this week.
Mark O'Donnell, Chief Executive of Royal Blind Group, said: "We are delighted to officially open Jenny's Well and the Hawkhead Centre.
"This has been a unique project for the Royal Blind Group as it is the first time that we have constructed a Royal Blind service and a Scottish War Blinded service side by side, and they will be our first centres in the West of Scotland. We have recruited a fantastic team of talented, knowledgeable and hardworking staff, and I am confident they will make these much-needed services a success.
"We never forget that it is only with the help of our supporters that we are able to provide education, care, support and employment to blind and partially sighted people, and I am extremely grateful to everyone who has helped make this project a reality."
Local residents and health and social care professionals toured the services last week, with
open days on Thursday and Saturday.
Jenny's Well is designed to be a 'home-from- home', the specialist facility reaches two storeys and is spread across four inter-connected pavilions which has a sensory garden at its core.
Jenny's Well Manager, Stewart Whyte said: "I am delighted to welcome all of our new residents to Jenny's Well. I feel passionately about making care for older people right, and know that all of us together can make the home the very best it can possibly be to both live and work in."
The Hawkhead Centre is fully accessible and has been designed so that Scottish War Blinded's members find it easy to remember and navigate. Facilities include a sports hall, specialist arts and crafts workshop, an IT suite, a rehabilitation room, and a peaceful garden room to promote relaxation.
Hawkhead Centre Manager, Sally Ross, added: "It is a privilege to build a new service at such an amazingly well equipped and beautiful new building."
The services are located at 196 Hawkhead Road, Paisley PA2 7BS.
To find out more, or to enquire about places, visit www.royalblind.org/paisley.