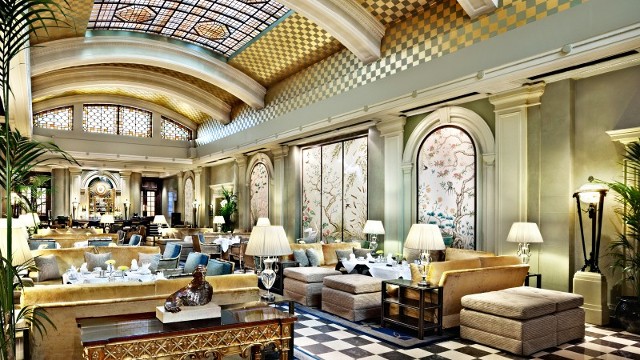 The world is once again buzzing with anticipation as London prepares to welcome the new royal baby in true British style.
To mark the arrival of the newest member of the royal family, many of London's hotels, restaurants and attractions are celebrating with regal themed afternoon teas, packages and special offers. London & Partners, the Mayor's official promotional company for London, has selected the very best celebrations taking place across London.
Gordon Innes, CEO London & Partners, said: "The year of HRH Prince George's birth was a record-breaking year for tourism, with London welcoming almost 17 million international visits in 2013. The full year visitor figures for 2014 are due next month and forecasts suggest that we are on course to top this figure.
Royal occasions such as this, combined with a continually spectacular and diverse tourism offering in London, help boost visitor numbers to the city and maintain London's position on the world stage – and we are anticipating that the capital will welcome 2.7 million more international and domestic visits in 2015 compared to 2013."
Community spirit
Continuing with tradition, the new Prince or Princess will be born at St Mary's Hospital in Paddington, where well-wishers have already started to gather. PaddingtonNow, the Business Improvement District for the area around St Mary's, is bringing together the community across the district to lead the way in celebrating the Royal birth.
Join the street festivities in Paddington as news of the birth spreads. The streets surrounding the hospital will come to life with celebratory bunting in either blue or pink and a town crier will march the streets to call for locals to toast the new arrival. Those with the same name as the baby will be in for a treat as neighbouring bars and restaurants will welcome them for giveaways and more celebrations.
Royal-Tea
The Park Lane Hotel, is hosting a very special Royal Baby Shower Afternoon Tea. Available until the end of May in the hotel's beautiful art deco lounge, The Palm Court, visitors can indulge in tasty treats such as a hazelnut and polenta pram cake, a milk bottle panna cotta or a sticky apricot cake ABC learning block.
Just down the road, London Hilton on Park Lane will celebrate the birth of the latest addition to the Royal family at their exclusive CC Bar which is available for private hire Baby Showers. A Champagne Afternoon Tea will be served, to all members of the party including a selection of freshly made sandwiches, pastries and miniature fancies alongside a selection of teas from Harney & Sons and Pommery Champagne.
Further south on the River Thames, history fans can enjoy a Royally Rich Afternoon Tea with City Cruises. This special cruise will take passengers through 150 years of Royal children, with a photographic exhibition and lectures by world renowned royal experts Ian Pelham Turner and Helena Chard. Passengers can discover the fascinating history behind the new Royal baby's bloodlines, as well as stories of a secret Royal residence and why Battenberg Cake is a particular Royal favourite.
For those who are craving more than just afternoon tea, the Royal Garden Hotel is running a competition for a chance to live like a royal. Guess the Royal Baby's name correctly and you could
win a two-night stay in a Garden Room overlooking Kensington Palace, the Duke and Duchess of Cambridge's residence, an afternoon tea and two tickets to tour Kensington Palace.
Regal retail therapy
Parents-to-be, including the Duke and Duchess of Cambridge, have the choice of London's top retailers, including Oh Baby London, an independent boutique for baby clothes situated on Brick Lane and Carry Me Home, an adorable store for unique baby clothes in Kingly Court. During her first pregnancy Kate kept stylish in maternity clothes from Peter Jones. Maternity fashion is booming in London, with high street stores and luxury retailers offering a varied selection of maternity wear for all budgets.