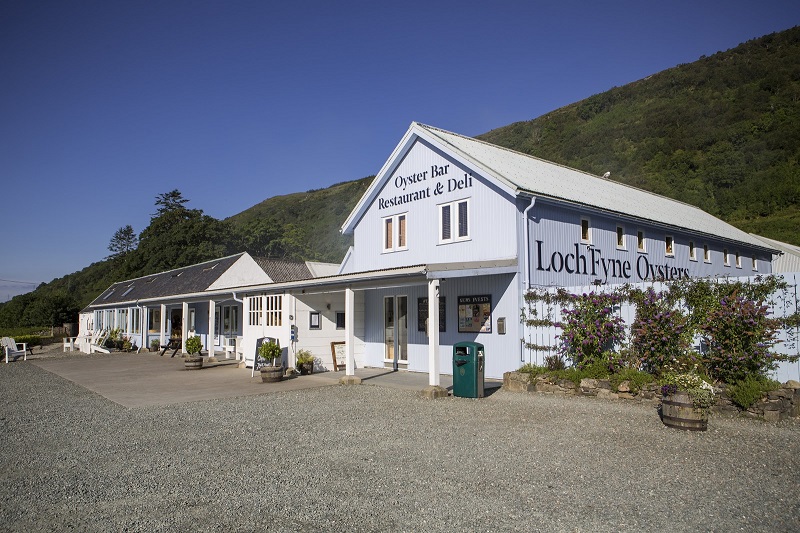 Loch Fyne Oysters will be celebrating its 40th birthday with a special 'Fyne at Forty' weekend festival on the 11th, 12th and 13th of May. Scottish band Hue and Cry will headline an exciting line-up at the event, where they will perform an acoustic set with just piano and vocals in the Loch Fyne Oysters restaurant on the 12th of May to an audience of 140 people.
During the festival weekend, visitors will be able to access areas that are normally closed to the public, such as the oyster sheds where each oyster is graded, purified and hand-checked for freshness before being despatched to one of many customers around the world. In addition, there will be a champagne tour of the historic Ardkinglas House, an oyster shucking competition and a treasure hunt amidst the fantastic Loch Fyne scenery.
Children can get their face painted before being entertained with musical activities, while adults can watch demonstrations from top chefs and enjoy wine and whisky tasting. Great food will also be available, together with great music in the entertainment beer marquee.
"We are planning a showstopper of a weekend," said managing director Cameron Brown. "Loch Fyne is a global success story and we want the public to come and help us celebrate forty fantastic years. We are excited about giving visitors a sneak peek at what goes on behind the scenes of our oyster farm, and I'm looking forward to having a bop at the ceilidh, and hearing Hue and Cry's iconic Scottish Hits. History lovers will have a chance to look around Ardkinglas House on our founder's estate whilst enjoying champagne and seafood, and nature lovers will be given special insight into the natural environment and abundant wildlife around our location on the shores of Loch Fyne. There is truly something for everyone at our 'Fyne at Forty' weekend."
Loch Fyne sells 2.5 million oysters a year, as well as 400 tonnes of mussels and nearly 1,000 tonnes of smoked salmon. Its seafood is exported all over the world and is on the menus of first class airline cabins, luxury hotels and Formula One racing events.
Tickets are available for purchase via the Eventbrite website.