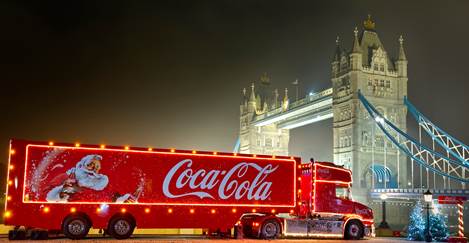 LateRooms.co.uk, the online accommodation site has announced that they will be expanding their UK accommodation offering in order to deliver a surprising new addition that is perfect for the festive season. The accommodation site is working with drinks brand Coca Cola in order to spread Christmas cheer. The two companies will be working together in order to offer a magical once-in-a-lifetime experience for two members of the public. The companies will be offering the opportunity to stay inside the red Christmas truck for the first time.
The Shiny Coca Cola Christmas truck will appear as a hotel listing on LateRooms.com, and the lucky couple will be selected from competitions entrants. The enter the competition and have a chance of being chosen to stay in the Christmas truck, entrants need to simply find the unique listing page and complete a survey question about why they should be chosen to win this unforgettable festive night away.
This ultimate Christmas stayover will only be available for one night, on Friday the 15th December, and will be filled seasonal trimming such as stockings packed full of presents, a decorated Christmas tree and a working fireplace. The winners of this unique competition will be the first guests to ever sleep inside the famous Coca-Cola truck which has travelled around 730,00 miles over the course of its seven-year history, which is the equivalent of 29 times around the world.
The Coca-Cola truck is a long-established connection to Christmas, and holds a special place in the hearts of their fans. Those wanting to enter this unique festive competition must do so by midday on the 8th December. This Ultimate Christmas Sleepover competition also has an integrated media campaign with festive Snapchat filters and the hashtag #holidaysarecoming as well as a bespoke new emoji.