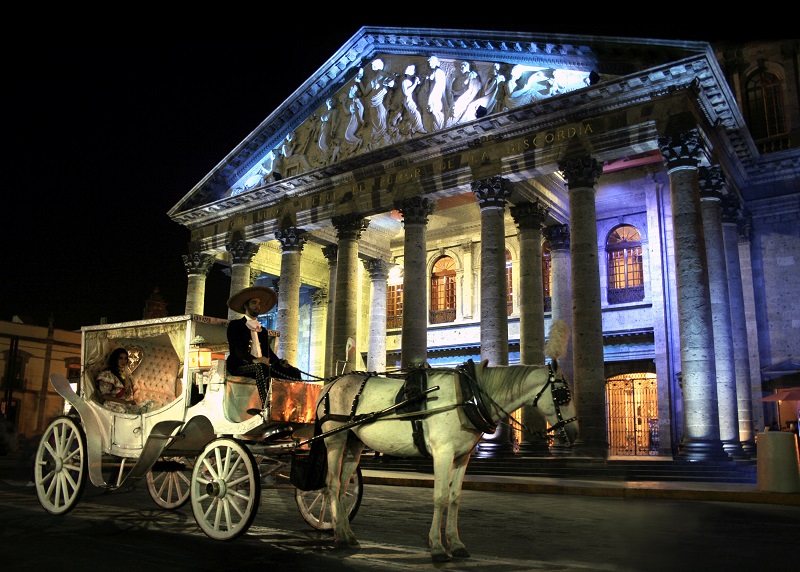 The monument of culture that is the Degollado Theater in Guadalajara, Mexico, now illuminates at night, thanks to the help of cloud-based connected LED lighting provided by Philips Lighting, a global leader in the lighting industry. The new development on the cultural landmark was completed last month, and gives the building a completely new element which is sure to impress visitors and locals alike.
The Degollado Theater was founded in 1866 and is situated at the heart of Guadalajara's city centre, playing host to many popular events such as concerts, operas, classical ballet and recitals, as well as plays and performances from established artists both in Mexico and worldwide. The Jalisco Philharmonic Orchestra and the Galas of the International Mariachi & Charreria Encounter are just a couple of the groups that are based here.
Now, the building known for its outstanding architecture and historic & cultural value, has become the first building in Latin America to be equipped with Philips ActiveSite, the latest cloud-based connected lighting management platform which uses only an internet connection to provide stunning lighting around the world.
"We created a concept that respects the heritage and accentuates the splendour of this iconic building which is synonymous with the cultural identity of the city," commented Hugo Jauregui Gomez, the lighting designer for this project. "Our innovative LED lighting system has successfully transformed an architectural monument into a night time landmark with low energy consumption."
The lighting system can be monitored, maintained and managed from anywhere in the world thanks to the new system provided by Philips Lighting, with the architectural features of the Degollado Theater now emphasised with the white or multi-coloured lighting at night.
The new developments are expected to boost tourism in Guadalajara, and with the LED lighting increasing safety as well as reducing energy consumption, it certainly brings plenty of positivity!