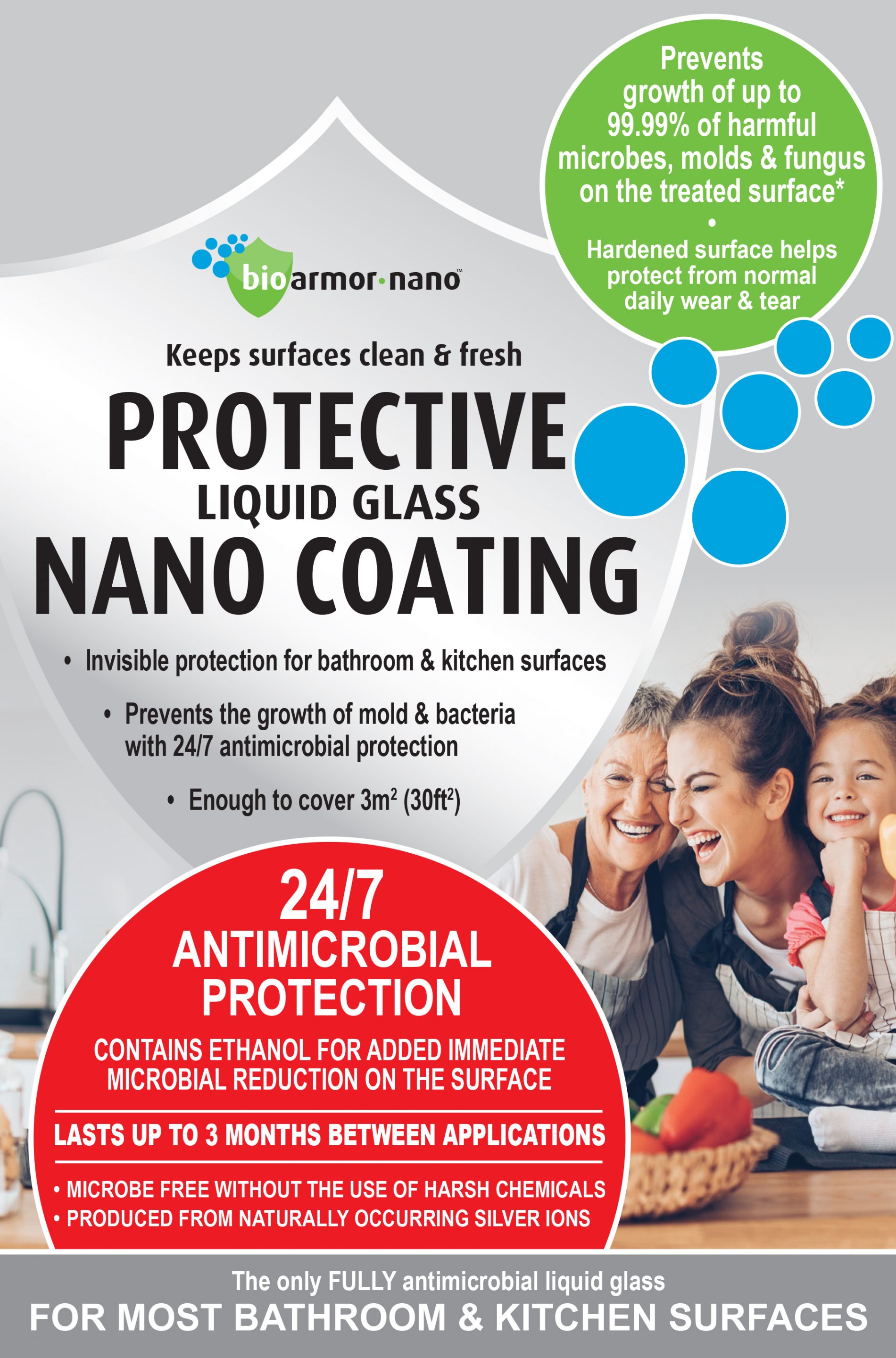 First and only proven antimicrobial surface coatings for home and tech launch this month.
Established international supplier of antimicrobial cases and screen protectors for smartphones and other consumer electronics, bioarmor Europe, is announcing the launch of a new range of wipe-on, antimicrobial coatings for home surfaces and tech products.
Catering to the fast-growing markets of 'health conscious' consumers and 'cool again cleaning fanatics', bioarmor-nano is the first and only wipe-on product proven to continually reduce up to 99.99% of harmful microbes (including E. coli and MRSA, mold and fungus) for up to three months. This is thanks to a nano-sized active antimicrobial particle (silver) contained within the super thin liquid glass coating.
Developed on the back of research that found the average smartphone contains 10 times more germs than a toilet seat[i] and, despite being regularly wiped down, kitchen worktops contain an average of 1,736 bacteria per square inch, bioarmor-nano offers consumers a quick, easy and affordable method of keeping harmful bugs at bay. The coatings also guard against accidental damage and provide hydrophobic protection too; creating smoother surfaces for dirt and grime to slide right off with just a gentle wipe.
This represents an easy upsell opportunity for network stores, as well as a solid stand-alone sale opportunity for all retailers keen to offer customers a fairly-priced, innovative and 'on-trend' product backed by an established UK brand, as John Shaw, founder of bioarmor Europe explains: "Using our five years' experience selling antimicrobial protective cases and screen covers in the UK and USA, via leading retailers such as EE, O2, Asda, Tesco and John Lewis, we recognised a gap in the market.
"Consumers are arguably more health conscious than ever before. There's also a massive trend to be capitalised upon, with cleaning ranked as one of the biggest social media trends of last year and key 'influencers' like Mrs Hinch attracting 2.4 million followers on Instagram and topping the Sunday Times Bestseller table with her debut book, Hinch yourself Happy.
"bioarmor-nano surface coatings play right into this sweet spot, providing consumers with the next big thing in cleaning, which is why we feel confident that our unique products will fly off the shelves. It's also why we're investing in creating strong market awareness from the get-go and actively seeking retailers and distributors to join us on our journey and benefit from the generous margins and exciting promotions we'll be offering as standard."
The electronic device range RRP is from £12.99 and contains enough product to cover up to six devices, or the equivalent of 1m2. The home range RRP is from £19.99 and contains enough product to cover all non-painted surfaces in the average kitchen or bathroom, up to 3m2.
bioarmor-nano will be available for consumers to purchase online at Amazon.co.uk and via bioarmor-nano.com from 1st May.
To find out more or enquire about becoming a supplier of bioarmor-nano products, please contact: [email protected]